LA PLATA, Md. (December 7, 2012)—The Charles County Sheriff's Office released the following incident and arrest reports.
SPECIAL ALERT: The CCSO is reminding citizens who own cars with expensive wheels and rims to take precautions with their property. Several incidents of wheel and rim thefts have been reported recently. The thefts usually occur overnight and can take just a few minutes to complete. In most cases, the suspects lift the car with a jack, quickly remove the tires and leave the vehicles on cinder blocks, bricks or landscaping stones. The suspects may be driving pick-up trucks, utility trucks and in some cases, mini vans. There are some things vehicle owners can do to help deter these thefts: use lug locks; park in a well-lighted area; consider a car alarm; and, as always, if you see something suspicious, say something and call the Sheriff's Office immediately.
THEFT: Between Dec. 5 - Dec. 5, during the overnight hours, unknown suspect(s) stole four tires and rims from an Infiniti parked in the 3500 block of Promenade Place in Waldorf. PO R. Gass is investigating.
BURGLARY: On Dec. 5 between 3:30 p.m. - 8:15 p.m., unknown suspect(s) forced open a front door to a house in the 400 block of University Drive in Waldorf and stole electronics and shoes. POI R. Walls is investigating.
THEFT: Between Dec. 4 - Dec. 5, unknown suspects stole four wheels and rims from a car parked in the 11700 block of Acton Lane in Waldorf. PFC J. Morales is investigating.
R.R.E. (RACIAL/RELIGIOUS/ETHNIC) CRIME: On Dec. 4 between 4 a.m. - 4:30 a.m., several suspects used bottled snow spray and sprayed racial slurs on a sign and on the side of a shed in a mobile park in the 12000 block of Gillespie Circle in Waldorf. Officers have leads and arrests are pending the outcome of the investigation. POI V. Warker is investigating.
ATTEMPTED BURGLARY: On Dec. 4 between 6:30 a.m. - 3 p.m., unknown suspect(s) attempted to gain entry into a house in the 5700 block of Port Tobacco Road in La Plata. Entry was not gained but a window and locking mechanism were damaged. PFC D. Benthin is investigating.
BURGLARY: Between Dec. 2 - Dec. 3, unknown suspect(s) cut the padlocks off a shed in the 8900 block of Cottongrass Court in Waldorf and stole several gallons of gas that was stored in containers. Cpl. R. Kuhnow is investigating.
THEFT FROM MOTOR VEHICLE: On Dec. 3 at 2:30 a.m., unknown suspect(s) stole tools and other items from the bed of a pick-up truck parked in the 6200 block of Bighorn Court in Waldorf. The vehicle's owner heard noises outside his house and when he went to investigate, he saw a male suspect in his truck. The victim went outside but the suspect fled, possibly in a dark-colored minivan occupied with at least two other people. PFC K. Newman is investigating.
BURGLARY: On Dec. 3, during the overnight hours, unknown suspect(s) broke into a detached garage in the 9700 block of Poorhouse Road in Port Tobacco and stole a blue 2009 Yamaha 700 four-wheeled ATV and an orange and black 2008 KTM 65 SE mini-bike. The owners heard what sounded like a motor starting in the area of the garage at approximately 12:50 a.m., but by the time they got outside, the motorcycles were gone. An officer was in the area when the call was dispatched and observed the ATV but as the officer turned his vehicle around to stop it, the driver fled into a wooded area. Officers searched the area but did not locate the suspect. Cpl. C. Long is investigating.
ROBBERY: On Dec. 1 at 3:49 p.m., a lone male suspect entered the Dash-In at 2007 Smallwood Drive in Waldorf, displayed a gun and demanded money from the clerk. The clerk complied and the suspect fled on foot. PFC C. Barrows is investigating.
THEFT: Between Nov. 18 - Dec. 1, unknown suspect(s) stole a John Deere X720 tractor from the 15400 block of Scout Camp Road in Hughesville. Officer M. Kelly is investigating.
BURGLARY: On Dec. 1 at 12:50 p.m., officers responded to the 11600 block of Mustang Creek Court in Waldorf after the homeowner walked in her house and noticed several items out of place. The homeowner left the house and called police. Officers sent in a police K-9 but the house was empty. The homeowner reported several items had been stolen. There were no signs of forced entry and the scene was processed for evidence. Officer C. Collins is investigating.
BURGLARY: On Nov. 30 between 4:30 a.m. - 5:45 p.m., unknown suspect(s) broke into a house in the 100 block of Beecher Avenue in Indian Head and stole a game system and other electronics. PFC. D. Raby is investigating.
ATTEMPTED BURGLARY: On Nov. 29 at 12:30 a.m., unknown suspect(s) broke out a window to a residence in the 1100 block of Cambridge Road in Waldorf. Once the window broke, the alarm activated and the suspect fled. The homeowner saw someone fleeing from the side of her house and called police. Officers canvassed the area. Officer N. Garner is investigating.
BURGLARY: Between Nov. 27 - Nov. 28, unknown suspect(s) kicked in a side door of a house in the 2200 block of Greystone Circle in Waldorf and stole electronics. Officers processed the scene for evidence. Officer J. Foster is investigating.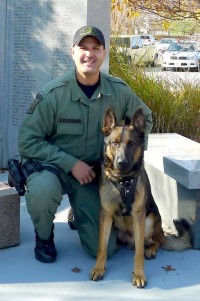 Pfc. C. Clevenger and his K-9 partner, Eno, tracked a burglary suspect nearly one mile and helped locate the suspect who was hiding under a deck.
K-9 TEAM AND PATROL OFFICERS APPREHEND BURGLARY SUSPECTS: Charles County Sheriff Rex W. Coffey said a call from a citizen - combined with excellent patrol work and a determined police K-9 team - helped lead to the arrest of two suspects who had just burglarized a house.
On November 19 at 12 noon, officers were dispatched to a residence in the area of Beechwood Drive in Waldorf after a witness called police to report a burglary in progress at a neighbor's house.
Pfc. K. Lerch and Officer K. Makle - who were off duty but in the area - responded along with Cpl. J. Murphy, Officer R. Gass and Officer V. Warker who were dispatched to the call. Pfc. Lerch, who was the first officer to arrive on the scene, observed a dark blue Cadillac Escalade parked in the driveway. As Pfc. Lerch exited his car to investigate, the driver of the Cadillac drove off, running over the grass and down Beechwood Drive. The burglary was confirmed, a lookout was broadcast and officers set up perimeters.
The Cadillac continued to Pineview Court where a passenger jumped out of the car and fled on foot. The driver of the getaway car fled to Farmington Woods in Prince George's County where he bailed out of the car. Officers canvassed both neighborhoods: the Beechwood area for the first suspect and Farmington Woods for the second suspect. Prince George's County police officers and Maryland Park police officers responded and assisted with the search as well.
Two police K-9 teams responded to Farmington Woods to search for the suspect. Cpl. J. Freeman of the CCSO K-9 Unit assisted Pfc. C. Clevenger and his partner, Eno, in the initial track. Then Pfc. Clevenger and Eno picked up a track that took them to points down south, up steep hills, through numerous ravines, and back north.
After pursuing the scent for nearly a mile, Eno eventually tracked the suspect to the rear of a house on Beechdale Court in Accokeek. As officers approached, they observed the suspect attempting to conceal himself under a small deck. He was arrested without incident by Sgt. J. Elliott and Lt. C. Becker who were assisting in the search.
Pfc. J. Foster, who remained in the area where the burglary occurred, spotted the other suspect on Pineview Court and placed him under arrest without incident.
Evidence linking both suspects to the burglary was recovered from the suspects' car. Steven Thomas Williams, 24, of Brandywine (the passenger) and Theodore Emmanuel Logan, 23, of District Heights (the driver) were charged with burglary and theft. Other charges are pending. The Criminal Investigations Division is continuing the investigation.
SHERIFF'S OFFICE AND LOCAL BUSINESSES JOIN TO PREVENT IMPAIRED DRIVING "CHECKPOINT STRIKEFORCE" OPERATION UNDER WAY: Charles County Sheriff Rex W. Coffey said Charles County Sheriff's officers will be joining forces with the Maryland State Highway Administration's Highway Safety Office in "Operation Checkpoint Strikeforce" - a project designed to help prevent drunk and impaired driving.
According to the Maryland State Highway Administration's Highway Safety Office, December consistently ranks as one of the deadliest months in Maryland for drunk driving-related fatalities. In 2011, 171 people died in alcohol-related crashes in Maryland, up from 163 in 2010. Of the 171 alcohol-related traffic fatalities, 28 percent were related to a blood alcohol level of .08 or higher.
As part of an on-going effort, the Sheriff's Office will be conducting multiple DUI checkpoints. In addition, the agency is asking local businesses to help raise awareness and promote personal responsibility this holiday season by placing the following message on their marquee or in their storefronts: "Report Drunk Drivers - Call 911."
Over the next several days, officers assigned to the Traffic Operations Unit will be visiting businesses throughout the county encouraging them to display the message. The marquee and storefront program presents an enormous opportunity to reinforce the idea that impaired driving is dangerous and must be reported immediately.
"Our officers are constantly on the lookout for impaired drivers, but we can't do it alone. We need citizens to call us when they see a vehicle being operated in a dangerous manner. Having these messages posted will simply remind people that they can help us take drunk drivers off our roadways." said Sheriff Coffey.
Disclaimer: In the U.S.A., all persons accused of a crime by the State are presumed to be innocent until proven guilty in a court of law. See: http://en.wikipedia.org/wiki/Presumption_of_innocence. Additionally, all of the information provided above is solely from the perspective of the respective law enforcement agency and does not provide any direct input from the accused or persons otherwise mentioned.