LEONARDTOWN, Md. (November 26, 2012)—The St. Mary's County Bureau of Criminal Investigations (BCI) Narcotics Division today released the following incident and arrest reports. The Division is an investigative team comprised of detectives from the St. Mary's County Sheriff's Office, Maryland State Police Drug Enforcement Division, and Federal Drug Agents (HIDTA Group 34). The Division was established on September 1st, 2007 and is based in St. Mary's County.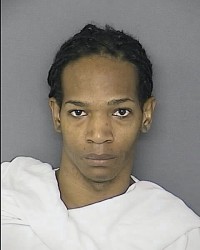 PRESCRIPTION FRAUD: While conducing a covert operation related to the Maximum Manpower Holiday Patrol, Vice/Narcotics detectives began to conduct an investigation into a suspicious prescription left to be filled at a Mechanicsville pharmacy. As the investigation continued, it was discovered that the individual in the investigation was a suspect in several other prescription fraud cases that the Drug Diversion Unit detectives were already working. Forrest Malcolm Gray, Jr., 28, of North Beach, a/k/a Sandra McNeilson, pictured above, was charged with several counts of passing a fraudulent prescription and insurance fraud. He was utilizing a Maryland subsistence insurance card to obtain the fraudulent Oxycodone prescriptions. The suspect has several other female aliases he has been using. Additional charges are pending a State's Attorney's Office review.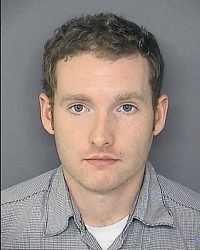 POSSESSION OF MARIJUANA WITH THE INTENT TO DISTRIBUTE: Vice/Narcotics detectives began an investigation into a possible large shipment of marijuana coming to a residence in St. Mary's County. The target of the investigation was observed in the area and detectives waited for him the take custody of the package. Suspect Darren Cole Grosche, 25, of Falls Church, Va. was arrested and found to be in possession of more than one pound of marijuana. A search warrant was conducted on his vehicle and additional packages with residual marijuana were discovered. The packaging was similar to the one that was received in the mail today, indicating that he has received numerous packages of marijuana in the same manner. His 2009 Ford Focus, valued at $6,000, was seized. He was charged with Possession of Marijuana with the Intent to Distribute.
Disclaimer: In the U.S.A., all persons accused of a crime by the State are presumed to be innocent until proven guilty in a court of law. See: en.wikipedia.org/wiki/Presumption_of_innocence. Additionally, all of the information provided above is solely from the perspective of the respective law enforcement agency and does not provide any direct input from the accused or persons otherwise mentioned.