By MATT FLEMING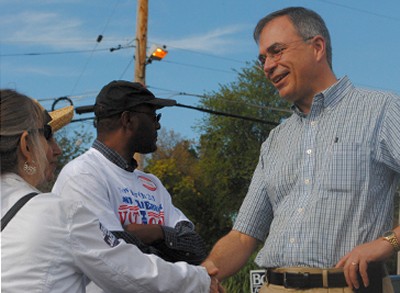 Rep. Andy Harris (on right) meets voters at a rally in Bel Air, Md., on Sept. 29. (Photo: Matt Fleming)
WASHINGTON - Less than two weeks from Election Day, tension and uncertainty are mounting, but if the stars align in Congressional Districts 6 and 1 and the U.S. Senate race, Rep. Andy Harris may soon be the highest-ranking Republican in Maryland.
Circumstances aside, the question becomes how Harris will use his leadership role to make Maryland more of a two-party state.
"Andy Harris is an experienced leader," said Tony O'Donnell, Maryland House minority leader. "He was in the state Senate for a long time, the leadership of the caucus, and the minority whip."
Harris was state Senate minority whip from 2003-2006. He serves on several congressional committees, and is chairman of the Space, Science and Technology Subcommittee of Energy and Environment.
"I think Andy will be a bigger force in Congress this time," said Louis Pope, national committeeman of the Maryland Republican Party. "He's a sharp guy, articulate, and has a great perspective. He'll be a huge asset to Speaker (John) Boehner and Congress."
"Andy is helping to encourage and recruit good candidates," said Pope. "He is the perfect person to talk to people who are considering running for office."
To promote party parity, Harris has given generous contributions to other Republican candidates, including O'Donnell, who is running for the District 5 congressional seat against House Democratic Whip Steny Hoyer.
"Andy is a terrific fundraiser," said first-term Delegate Kathy Afzali, R-Frederick County. "He sticks to conservative principles, which I like. I compromise when I can and hold my ground when it's necessary; Andy does the same thing."
National Journal gave Harris a conservative composite score of 67 percent in 2011, which establishes where he ranks ideologically in the House based on his voting record, landing him in the ideological middle of House Republicans.
"Andy Harris represents the national party more so than views of Marylanders," said Michael Cain, director of The Center for the Study of Democracy at St. Mary's College of Maryland. "He is a product of the modern political party. He replaced a moderate Republican (Wayne Gilchrest) who sat for many years."
The new congressional redistricting map has ushered in approximately 4,000 more Republican voters and reduced Democratic voters by nearly 15,000 from 2010 levels , making Harris' district that much more out of sync with the populous and heavily Democratic Montgomery and Prince George's Counties, as well as Baltimore.
The redistricting map has not been as kind to District 6 Congressman Roscoe Bartlett. Once a safe Republican seat, fortified by a nearly 50,000 Republican voter advantage in 2010, the pendulum has swung to give Democrats a 47,000 voter advantage. That advantage is nearly 11 percent of the district's population, leaving Bartlett on precarious footing.
What seems clear from polls and pundits, is that Harris will most likely emerge from this election with even more stature in the state's Republican Party.
"It's really a question of whether he is more concerned with his political position or expanding the party in the state, which I think they work at cross purposes," said Todd Eberly, assistant professor of political science and public policy at St. Mary's College of Maryland.
"If he is only worried about his seat, then there is no need to moderate," said Eberly. "If they are about ideological purity, then they will probably continue to lose all the time."
Many Republicans disagree. Maryland Republican Party Chairman Alex X. Mooney said, "I do think his conservative principles are admirable and accurately reflect his district. I think you can stick to principles and win an election."
Harris will most likely win. The redistricting widened his sphere of likely supporters, but his Democratic challenger, Wendy Rosen, withdrew last month due to allegations of voter fraud.
Her replacement, John LaFerla, was nominated too late for the Board of Elections deadline for ballot recognition, relegating him to write-in status. Besides a few other write-in candidates and a Libertarian candidate who has yet to sell his candidacy sufficiently for many voters to take notice, Harris is running relatively unopposed. With such a secure district, Harris has the opportunity to come to the center a bit.
Nationally, many voters have begged for bipartisanship to ease congressional gridlock. The Real Clear Politics voter average approval rating of Congress is just 15.4 percent as of Oct. 16.
Harris' resolve appears unwavering, and if re-elected he plans to double-down on the principles that got him to Washington.
Disappointed with Congress' inability to "solve the spending problem in Washington," Harris plans to push for vice-presidential candidate Paul Ryan's budget, which passed in the House, but died in the Senate.
Back in Maryland, it is principles again that will be Harris' lighthouse.
"We're going to talk about the need for fiscal discipline," said Harris. "I think that brings many of the independent-minded folks in Maryland and the Democrats, who had been called the 'Reagan Democrats,' back into the Republican Party."
There is still debate over whether that is the best way to attract moderate voters. It is widely believed that ideology wins primary elections, while general elections are won with a more centrist migration.
"Andy Harris is not the guy to carry that out," said Matthew Crenson, a professor emeritus in the Department of Political Science at Johns Hopkins University, "because he is an ideologue, which is not the kind of person that will draw in people."
Harris is in a delicate balance between representing his largely Republican district and the entire state, which is largely Democratic. Making Maryland a two-party state may lie beyond his capacity as congressman.
"I don't think a single person can do that," said Cain, "especially not a congressional seat. A governor or senator has more ability because they are statewide."
"However, he can have a very important role," Cain said, "he can influence the direction of the party, policy, and decision."