By MATT McNAB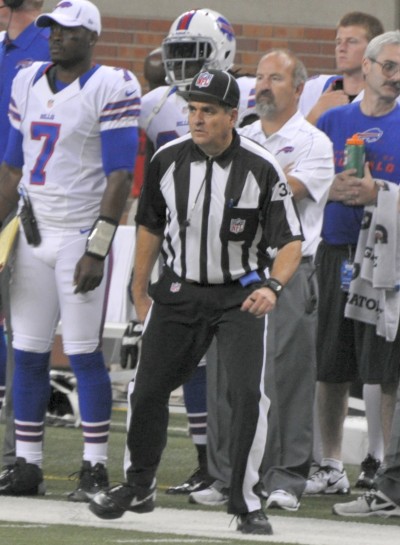 Tom Falcinelli officiates an NFL preseason game between the Buffalo Bills and Detroit Lions Aug. 30 in Detroit. (Handout Photo)
ARLINGTON, Va.—Tom Falcinelli couldn't have been more invisible officiating a high school football game last weekend, attended by a few hundred parents and students.
The game between Gonzaga and Bishop O'Connell offered a stark contrast to his last, highly visible assignment: Raiders-Dolphins, NFL week 3, in front of an announced crowd of 54,245.
An official with 25 years of experience in high school and low-level college football, Falcinelli, of Silver Spring, worked seven games as an NFL replacement official during the referee lockout earlier this season. That brief chance to officiate in the big leagues ended in September after the regular referees and the league agreed on a contract, ending the lockout.
"It was a great experience," he said. "The training and the supervisory staff were incredible, and the league was the most professional organization I've ever been involved with. I was pleased that I could do it."
Falcinelli began officiating high school games after he graduated from Howard University's law school in 1987. Although he said officiating in the NFL was a lifelong goal, he originally got into thinking he'd never move beyond high school.
That all changed during a state championship game at Byrd Stadium in 2000. In the waning seconds of the game, Falcinelli correctly ruled that a Gaithersburg High School running back had broken the plane of the end zone and scored a touchdown on a pass play, giving Gaithersburg a 24-21 win over Sherwood High School.
"There was an Eastern College Athletic Conference scout there," Falcinelli said. "He came up to me and asked, 'Are you interested in officiating some college ball?'"
From there, Falcinelli's officiating career took off. He began officiating Division II and Division III games with the Eastern College Athletic Conference, in addition to high school games around the Washington, D.C. area. In 2007, the American Indoor Football Association promoted him from a regular official to their director of officials, a position he held until the league folded in 2010.
That jump to college officiating eventually led to a call from the NFL's recruiting office in the summer of 2006.
"They called and told me to send them my college schedule so they could scout my games," he said. "I filled out the application but I wasn't selected."
Then, this June, he received a call from NFL recruiting director Ron Baynes, who gave Falcinelli an offer he couldn't refuse.
"Ron called and said they had me in their database and asked if I'd be interested in working in the NFL," he said. "I knew about the labor strife, and I knew it would be as a replacement referee, but there was no doubt in my mind that I wanted to."
He accepted the offer, one of 300 potential replacement referees that answered the NFL's call. Those 300 were sent to two referee training camps and tested on their officiating and physical skills. Falcinelli participated in the training camp held for referees in Atlanta.
"The physical testing was held in 110 degree heat," he said. "A lot of guys couldn't hack it. We did a half-mile run after every drill, and a lot of guys couldn't finish it. I thought I performed well physically and asked the right questions during the information sessions."
After the training camp, NFL security conducted a four-hour interview with him and ran a background check. Falcinelli said he "sweated" for three weeks until he got the email letting him know he had made the cut. He headed to Dallas to meet his officiating crew and get more training.
"When I found the crew I was assigned to, the crew chief told me that Ron Baynes had called me the 'rules guru' because of the questions I asked and what I knew," he said.
On Aug. 9, Falcinelli went to Philadelphia to serve as head linesman in his first preseason game, between the Steelers and Eagles. He received his unofficial welcome to the league at the end of the fourth quarter, when the home crowd serenaded him with a chorus of boos for calling unnecessary roughness against the Eagles.
"There was 12 seconds left in the game and a Steelers player fell on a punt and made no attempt to advance the ball," he said. "An Eagles player came in and drilled him, I threw the flag and the crowd went crazy."
His eight-man crew would end up working several games to positive reviews, a rarity among the heavily-scrutinized replacement referees. He also officiated games in Phoenix, Miami, Kansas City, Detroit and two in Tampa.
For six games, Falcinelli worked as head linesman, watching the line of scrimmage for pre-snap penalties and marking the spot of the ball. He also worked one game as a side judge, following the play as it develops downfield.
Although he was away from home for large swaths of the past four months—and "immersed" in training and learning the rulebook when he was home—his family was supportive of his decision.
"I had their blessing," he said. "They knew I had to do it, and I knew I not only had to do it, I had to do it well."
Falcinelli said the jump to the NFL came at a time of family turmoil; his mother-in-law was ill and she passed away in the middle of the preseason.
Falcinelli said he and the other replacement referees "kept their minds clear" of the criticism and the lockout, instead focusing on their training and practice. Ignoring the news coverage of the lockout made the ending all the more abrupt.
Falcinelli's crew learned the lockout had ended from a hotel in Baltimore, where they were preparing to officiate the Thursday night Browns-Ravens game on Sept. 27. Instead, the regular officials returned to call that game.
"Realistically, we knew it was going to come, but it was disappointing when we heard," he said. "We had just received our winter and breast cancer awareness gear the week before. Per our contract, all gear had to be returned, but the NFL graciously waived that clause."
Three weeks after refereeing his last game in the NFL, Falcinelli was back on the field refereeing the contest between Gonzaga and Bishop O'Connell in Arlington, Va. (Gonzaga won 38-2).
He said it would likely be his last game on the field as an official.
"I think it's time to walk away," he said. "It's been a good run. I've finished my career at the top. I'll continue to work as an administrator and evaluator of officials, but I'm probably done officiating on the field."