By DAVID GUTMAN
This is one of five stories that we will publish on potential gubernatorial candidates for 2014 in Maryland: Md. Republicans; Attorney General Doug Gansler; Howard County Executive Ken Ulman; Lt. Gov. Anthony Brown; and Comptroller Peter Franchot.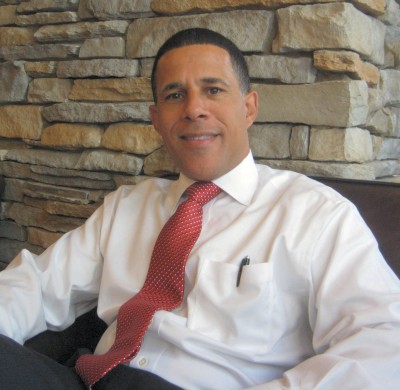 Maryland Lt. Gov. Anthony Brown, at a coffee shop during a visit to Washington, D.C. in September, is considering a run for governor in 2014. (Photo: David Gutman)
COLLEGE PARK, Md.—No Maryland lieutenant governor has ever gone on to be elected governor. In 2014, Lt. Gov. Anthony Brown will almost certainly try to become the first.
If Brown is not yet altogether candid about his plans for a gubernatorial run, it's easy enough to read between the lines.
"We're raising money in order to position ourselves so that when we decide on what we're going to run for, we'll be able to do it," Brown said. "One of the higher offices I'm exploring is running for governor."
The Maryland constitution is pretty clear about the responsibilities of the lieutenant governor--there are are virtually none. Other than taking over if the governor dies, the constitution gives the lieutenant governor, "Only the duties delegated to him by the Governor."
Unlike some previous lieutenant governors, however, Brown has been given significant policy responsibilities by Gov. Martin O'Malley.
"Gov. O'Malley has given us tremendous portfolio in health care, economic development, and higher education," Brown said. "During the course of our governing I have been able to focus on domestic violence, foster care and adoption, and veterans' issues."
Brown has been responsible for coordinating the arrival of nearly 20,000 military related jobs as a result of the Defense Department's base realignment and closure plans (BRAC).
Maryland has certainly been a beneficiary of BRAC. Bases have closed in other states leading to expansions and jobs at Walter Reed National Military Medical Center, Fort Meade, Fort Detrick, Aberdeen Proving Ground, and Joint Base Andrews. But certain inevitable problems have arisen.
Nearly all of the jobs created by BRAC are civilian jobs. New employees, therefore, live off-base and, despite several major highway projects and mass transportation improvements, traffic problems have ensued.
More construction is still in the works, including $100 million worth of projects at Walter Reed and $55 million at Fort Meade.
"There are lots of jobs coming to Maryland," said Don Kettl, dean of the School of Public Policy at the University of Maryland. "So that gives him an opportunity to go out and campaign on the argument that he's done a lot to try to promote and create jobs for the state."
O'Malley also put Brown in charge of implementing the federal Affordable Care Act in Maryland.
"He has the lead on the state's efforts on health care reform, which the governor clearly hopes to establish as a national model," Kettl said.
Maryland received a $34 million grant to set up an exchange to make it easier for individuals and businesses to compare and purchase private health insurance plans. Unveiled by Brown in August, and branded the Maryland Health Connection, the exchange will open in 2013 and will receive an additional $123 million federal grant to prepare for its debut, Brown said.
"It's kind of a market where families and businesses can go to compare competitively priced insurance products and pick the one thats right for their family," Brown said.
While he says that Maryland is well ahead of most states in implementing the Affordable Care Act, Brown touts Maryland's development of Health Enterprise Zones, which try to match health care providers with needy, low-income communities, as going far beyond the federal reforms.
"We need to make healthcare more accessible to more and more Marylanders," Brown said. "We need to particularly focus on those communities that have been under served traditionally--urban poor, inner cities, rural Maryland--where we see the highest levels of health disparities."
The Health Enterprise Zones, which Brown said will be designated by the end of 2012, will try to get more health care providers operating in low-income communities by offering loan repayment assistance for doctors, tax credits for hiring more nurses, and grants for buying necessary equipment. The state budget for fiscal 2013 has designated $4 million for the program.
Earlier this year, controversy erupted over O'Malley and Brown's plan to transfer, from state to county governments, a greater responsibility for funding teacher pensions. The counties had previously assumed one-third of the cost of teacher pensions. Under the new plan they will pick up half the bill in 2013 and will pick up a progressively greater share until 2016 when they will be responsible for the total bill.
Brown argued that in most states local governments assume the bulk of the responsibility for teacher pensions. In Maryland, however, the state has been primarily responsible for teacher pensions since the system was first enacted in 1927.
Particularly outspoken against the idea were Comptroller Dennis Franchot and Howard County Executive Ken Ulman, both of whom, coincidentally or not, are thought to be considering runs for governor. They argued that the shift constituted an unfunded mandate and would cripple local budgets.
"Right now we fund our schools on a 50-50 basis with the counties, and I'm talking about operating dollars," Brown explained. "Our thinking is that public education is a shared responsibility between state and local government, so the teacher portion of the pension ought to be a shared responsibility."
Politically, Brown is well positioned as an influential member of a popular administration. He also has a compelling personal history. The son of immigrants (his father is Jamaican and his mother Swiss), Brown attended Harvard on an R.O.T.C. scholarship. He served five years of active duty in the Army before returning to Harvard for law school, where one of his classmates was Barack Obama.
In the mid-90s, Brown worked in Baltimore for the law firm Wilmer Cutler Pickering, where one of the partners was Stephen Sachs, former Maryland Attorney General, one-time gubernatorial candidate, and someone whom Brown cites as a political mentor.
"Anthony would have been a partner in that law firm had he chosen to stay," Sachs said. "But there was never much doubt that he wanted to be in politics and government in Maryland."
Brown served for eight years in the Maryland House of Delegates, including two years as majority whip, before being elected lieutenant governor.
Still a member of the Army Reserve, Brown deployed to Iraq in 2004. He received a bronze star for his service and is the nation's highest ranking elected official to serve in the Iraq war.
In addition to Brown, Ulman and Franchot, Attorney General Doug Gansler is often mentioned as a potential Democratic gubernatorial candidate.
Brown is widely assumed to have O'Malley's support, and in an August press release, O'Malley tacitly endorsed Brown.
"...I urge Anthony to continue his public service and pursue the greatest level of public responsibility," O'Malley said, in the statement. "More than any other public official, Anthony Brown has my complete trust in his ability to serve the best interests of Maryland."
Brown would be only the second lieutenant governor to run for governor—Lt. Gov. Kathleen Kennedy Townsend lost to Robert Ehrlich in 2002 (although, to be fair, Maryland had no lieutenant governor from 1869-1970). Were he to win, Brown would also be Maryland's first black governor, a fact that some analysts think could give him an edge.
"He ought to be able to capitalize on the historic nature of a black governor to activate voters in Baltimore and other African-American strongholds," said David Moon, a Democratic consultant and founder of the progressive blog, Maryland Juice.
Todd Eberly, assistant professor of political science and public policy at St. Mary's College of Maryland, agreed.
"African-American voters in Maryland have watched election cycle, after election cycle, after election cycle where they have been denied an African-American candidate running at the top of a statewide ticket," Eberly said. "If you've got three or four people running, and Anthony Brown in that mix, I think that African-American voters would be very eager to support a lieutenant governor clearly qualified to be governor and that alone could be enough for him to emerge on top."