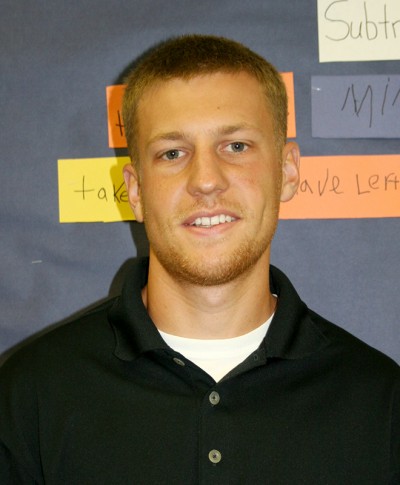 Shawn Kostoff. (Submitted photo)
LA PLATA, Md.—Shawn Kostoff, a special education and mathematics teacher at Piccowaxen Middle School, was recently named a 2012 Maryland Outstanding Mathematics Educator by the Maryland Council of Teachers of Mathematics (MCTM). He is being honored in the beginning mathematics teacher category at the MCTM annual awards banquet Oct. 19.
Honorees can either apply or are nominated for the award and are selected for their application of national mathematics teaching standards in the classroom, professional growth in mathematics and knowledge of student learning.
Kostoff started his teaching career with Charles County Public Schools in 2010 at Piccowaxen, where he teaches self-contained math and co-teaches inclusion math. He sets high standards for all students and works tirelessly until all of his students are successful. Piccowaxen Principal Kenneth Schroeck said Kostoff has a special ability to make learning about math fun and exciting for his students.
"He is a master at motivating his students. I am impressed with the way he makes learning fun for his students. His students love the way he makes math fun to learn. But, most of all, they adore him because he accepts them for who they are and challenges them to reach academic heights they hadn't yet imagined," Schroeck wrote in a nomination letter.
Kostoff also dedicates his spare time to extra-curricular activities, including teaching in the after-school academy, coaching the girls' intermural basketball team, organizing the student faculty basketball night and co-sponsoring the Teens Influencing Every Student (TIES) boys' group. Through his participation with the TIES group, Kostoff works with at-risk learners, coordinates service learning projects and serves as a role model for group participants. Schroeck also credits Kostoff with increasing student performance on state assessments. "He was instrumental with our school being recognized by the state for overall academic achievement and sub-group achievement for the last two years," Schroeck wrote in a nomination letter.
Applicants and nominees were required to supply evidence of professional growth and teaching experience, as well as letters of recommendation and an essay based on how the National Council of Teachers of Mathematics (NCTM) standards are reflected in their classrooms. Additionally, teachers were required to submit a videotaped DVD lesson to demonstrate their work with students. Kostoff is one of six Maryland teachers that will be honored this week by the MCTM.
For more information on the awards program, visit the MCTM website at
http://www.marylandmath.org/
.
Source: Charles County Public Schools