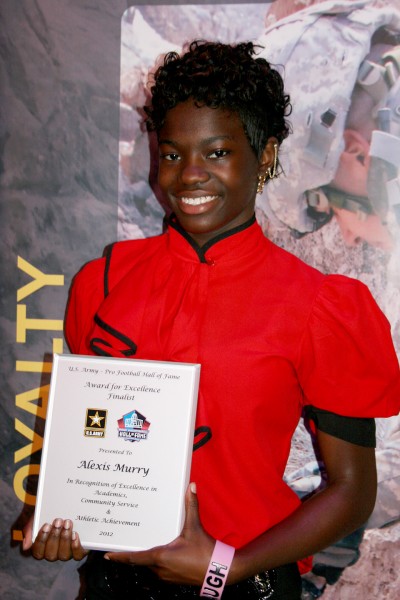 Alexis Murry, senior, Henry E. Lackey High School.
LA PLATA, Md.—Alexis Murry, a senior at Henry E. Lackey High School, was honored on Thursday, Oct. 4, as one of 10 nationwide finalists in the U.S. Army – Pro Football Hall of Fame Award of Excellence program. The program, which was launched earlier this year, highlights the achievements of student athletes, and their excellence in academics and community engagement.
Murry has participated in indoor and outdoor track and field at Lackey since she was a freshman, and takes part in several events ranging from the 55- to 800-meter dashes and the high jump, to the 55-meter hurdles and team relay races. Throughout her career, she has earned several first-place regional titles, as well as several second-, third- and fourth-place rankings at the state level. Murry has also participated in cheerleading at Lackey and served as a statistician for the varsity football team.
Representatives from the U.S. Army and the Pro Football Hall of Fame, as well as Darrell Green, former cornerback for the Washington Redskins and 2008 inductee in the Pro Football Hall of Fame, visited Lackey to present Murry with her finalist award. George Veras, president and CEO of the Pro Football Hall of Fame Enterprises, said the program was developed to honor students that exemplify qualities of excellence and strength. "The U.S. Army and Pro Football Hall of Fame partnered to establish this program to recognize students that represent areas of strength and excellence," Veras added.
During his opening remarks, Mark Davis, the deputy assistant secretary of the Army for marketing, said the 10 finalists embody the same skill sets as soldiers. "Army soldiers and athletes possess the same skill sets and characteristics, such as integrity, mental, physical and emotional strength, dedication and excellence," Davis said. Green, who then introduced Murry as a finalist, said the awards program is also about being a role model for the community and a team player. "It is about those who can rise above to say 'I can; I will. For myself, for my family and for my classmates'," Green added.
In addition to her athletic commitments, Murry is also dedicated to excellence in the classroom and community. She is currently enrolled in four Advanced Placement (AP) courses, is a member of the National Honor Society (NHS) and the Lackey Key Club, as well as the JROTC. She has also maintained a grade point average at or above the standard 4.0 grading scale throughout high school. Murry has also applied to several colleges and universities, ranging from the Ohio State University and Alabama to Miami and Louisville, and plans to study sports medicine.
She credits her family and the Lackey community for her award. "This award is a great honor. I am the only student selected from Charles County, and from Maryland. It is a great step for me in my life and is important to me and my Lackey family. I thank everyone in my life that is there to support me," Murry said.
Thursday's ceremony was the first of 10 coordinated by the U.S. Army and the Pro Football Hall of Fame to honor program finalists. Murry applied for the program during her junior year, and Veras said her application was outstanding. "Her application leaped off the page for us. This is an award not only for her, but for the school. You can feel the support and spirit in the school," he added.
Murry and her family will travel to San Antonio in January, along with the other nine award finalists, to the U.S. Army All-American Bowl, where the winner will be announced at a Jan. 4 awards banquet. For more information on the program, visit the Pro Football Hall of Fame website at
http://www.profootballhof.com/Army/
.
Source: Charles County Public Schools