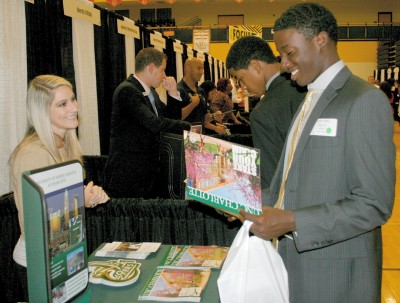 Westlake High School senior Xavier Maloy, right, talks with a representative from the University of North Carolina at the Charles County College Fair Sept. 19. (Submitted photo)
LA PLATA, Md.—The 15th annual Charles County College Fair, sponsored by Charles County Public Schools (CCPS), was held Wednesday, Sept. 19, at North Point High School. The event provides students, parents and community members with opportunities to speak to college representatives, gather information on college and career programs, and learn about the scholarship and financial aid application. This year's fair featured 156 colleges and universities, which is the largest number of schools to participate to date.
The fair was split into two sessions – a day session for students from the six high schools, and an evening session for students, parents and the community. The morning session was from 9 a.m. to 1 p.m., and more than 300 seniors from each high school attended after signing up in advance. Students took advantage of the opportunity to attend the fair, and conducted research on offerings available to them after they graduate.
Students were given about 30 minutes to visit booths, and most college representatives asked students to fill out contact cards so they could receive further information. A total of 1,937 students attended the day session.
Nearly 1,900 students, parents and community members attended the evening session, and two financial aid workshops were featured to offer parents and students information about finances for college. The workshops were provided by Christian Zimmerman, director of financial aid for the College of Southern Maryland.
The school system is also hosting additional financial aid nights this fall at each of the county's six high schools. Each session will be held at the school listed and are open to the public. The schedule is as follows:
-- Henry E. Lackey High School, Dec. 19, 6:30 p.m.;
-- La Plata High School, Nov. 13, 6 p.m.;
-- Maurice J. McDonough High School, Nov. 13, 7 p.m.;
-- North Point High School, Dec. 6, 6:30 p.m.;
-- Thomas Stone High School, Dec. 18, 6:30 p.m.; and
-- Westlake High School, Dec. 6, 7 p.m.
Source: Charles County Public Schools