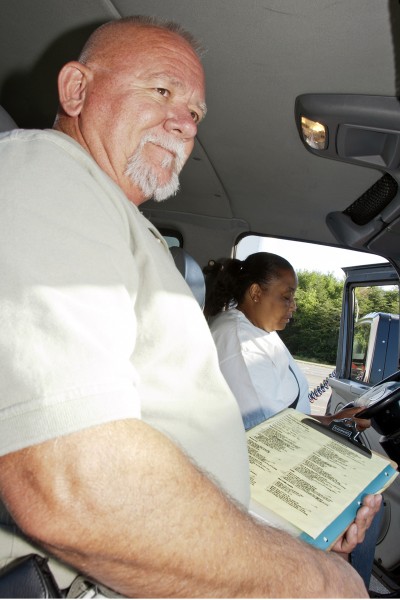 CSM Commercial Truck Driver Lead Instructor Eric "Mac" McCollum has his clipboard ready as he prepares to head out on the road with a student driver. "We want students to have every driving experience possible so that they are ready for many situations and road conditions," said McCollum. "Over the seven-week course for Class-A licensure, students are pretty much guaranteed to drive in wind and rain. It's great if we can provide snow and ice, but that's not always possible—especially this past winter. As much as we train them, though, there will always be something that no one can train for."
LA PLATA, Md.—When Eric "Mac" McCollum first drove a truck—in the early 1970s—there were few requirements and regulations. "Back in the day you didn't need a CDL license—it was the Wild West." The numbers of injuries and deaths from tractor-trailer related accidents prompted Congress to enact the Commercial Motor Vehicle Safety Act requiring standardized training and licensure for all truck drivers. The same year the law took effect, CSM opened its training center and 20 years later McCollum, as the lead instructor for the truck driver training program, has trained more than 1,600 students to clutch through 13 gears.
"Today's drivers have to know how to do more than just steer. They must be computer-literate to be able to access GPS information, they must be trained and receive Homeland Security clearance for hauling hazardous materials and they must specialize in the type of truck they are driving—tanker, mixer, dump or flatbed. With some trucks carrying more than $1 million in cargo, companies have installed 'black boxes' that provide monitoring through in-truck satellites. Companies want to know what their drivers are doing and if they are exceeding the speed limit for a period of time," McCollum said. "A computer-generated voice will tell drivers: 'You are exceeding the speed limit. You are in jeopardy of losing your job.' "
"When you think about it, you have a driver with a truck that is worth between $100,000 to $200,000—just the tractor, and then the trailer is another $30,000. Then they may have $1 million or more in cargo in the back. Companies want to know where that cargo is at any given time. A driver can't say that he's on I-10 heading for Dallas when the company's satellite computer system is showing that he's at Jason's Truck Stop back in New Orleans, or worse, he's rambling through Vegas."
Before a career in the Navy, McCollum worked for a national moving company, mostly packing and moving furniture but also some driving, he said. A 20-year cancer survivor, McCollum retired from the Navy in 1990. "I got out on May the 8th, went fishing on the 9th and started back to work on the 10th," he said. When that company folded a few years later McCollum wasn't sure what would be next. At the unemployment office, a veterans representative asked McCollum if he wanted to drive a truck. A few weeks after completing the course, McCollum was hired by CSM as a range monitor assisting with setting up training courses at the Center for Transportation Training.
As an instructor, McCollum works with students for seven weeks—280 hours of training that begins in the classroom to prepare for CDL learners permit, then to the driving range where they begin to learn how to put the truck in motion. They learn hand position, driving, backing, parking as well as under-the-hood vehicle inspections. When they no longer sideswipe imaginary vehicles and buildings marked by orange cones, they head out.
"The first time we go out on the road, some students act like they're not nervous, but as soon as they get behind the wheel, they're nervous. They have to keep that cool personae up in front of their classmates," McCollum said. "Our students say that after their first time out, they have a lot more respect for truck drivers. They thought that anyone can drive a truck, but it's not true. The conditions are pretty bad out there. People are always in a hurry and all [the truck] is to them is a moving roadblock."
One of the most-feared challenges for students is the Solomons Island Bridge, said McCollum. "You'd be surprised how many people who have lived in Southern Maryland all their lives have never driven across that bridge in a car because of the height," McCollum said, adding that the view from the bridge is even 10 feet higher in the cab of a tractor trailer.
"They come here not knowing how to drive a truck, most don't know how to drive a clutch and they learn the gambit of backing, parking, pre-trip inspections, how to shift correctly and double clutching," said McCollum. Students prepare for night driving and mountain driving on the same trip to Frostburg. "We leave at 2 a.m. and get back at 11 a.m. that day," McCollum said.
After completion, job prospects are good, according to McCollum.
"Companies are looking for over-the-road drivers with a Class-A CDL license. They will still be student drivers when they are hired, but a good company will put them out there with trainer for two, four and six weeks. Werner Enterprises, for example, has a six- to eight-week training period. When they become a 'finished' driver they are assigned a truck, given the keys and away they go," said McCollum, who added that companies such as Werner, Schaffer Trucking and Chaney Enterprises among others recruit students who complete CSM's CDL training.
The demand for new drivers is approximately 80,000 drivers nationally per year. Trades and transportation industries are projected to be the two fastest growing fields in Southern Maryland over the next 10 years. The average starting pay of most drivers is $36,000 per year.
"When the economy took a dive in 2008, nationally the truck driving industry took a hit. With less goods being manufactured and sold, fewer drivers were needed. That has not been the case in the D.C. Metro region," said McCollum. "Our drivers have jobs waiting for them when they complete certification. Now that the economy is showing signs of recovery, we expect the demand to increase not only here but throughout the region."
CSM offers Commercial Trucker Driver Class-A (CDL-A) and Commercial Driver's License Class-B (CDL-B) training. The CDL-A course trains students to operate combination trucks: tractor trailer, straight trucks, dump trucks and other commercial delivery trucks. The CDL-B course trains students to operate passenger transport vehicles such as motorcoaches and school buses as well as straight trucks, dump trucks and other commercial delivery trucks.
CSM is among the few schools in the country that have earned certification by the Professional Truck Driver Institute (PTDI) for its Class A program. A certification through a PTDI accredited program is recognized in the industry and enhances a student's resume. The Class 'A' CDL program also provides college credit for students with the opportunity to earn a scholarship. Students in CSM's non-credit CDL courses can seek funding through grants awarded by agencies such as Southern Maryland Works or Maryland Division of Rehabilitative Services.
CSM also offers school bus driver training and former graduates of class A or B can upgrade to a bus driver license.
For information on CSM's CDL classes, visit
http://www.csmd.edu/
.
Source: CSM