Explorers Won Medals, Placed in Top Percent and Received a Perfect Score in Events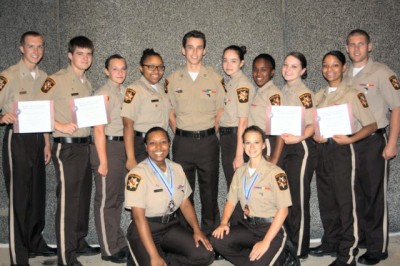 From left to right: Chris Chamblee, Steven Rands, Angela Campbell, Brandi Thomas, Brandon Morrison, Jessica Sweeney, Naja Butler, Katie Collins, Tiffany Butler and Rick Pickeral. Front Row: Jania Osborne and Carly Ford. (Submitted photo)
LA PLATA, Md.—"A lot of talent and a whole lot of skill," said Sheriff Rex Coffey of the Charles County Sheriff's Office describing the achievements of 12 Explorers from the Charles County Sheriff's Office Explorers Post 1658 who recently competed against more than 1,000 Explorers from across the country at the National Law Enforcement Explorers Conference, Law Enforcement Challenge in Ft. Collins, Colorado. The CCSO Explorers placed in the top 10 percent in four categories and won medals in two individual events.
Carly Ford, 17, a senior at North Point High School, won a medal after placing in the top 20 in the pistol marksmanship competition against 800 competitors, and Jania Osborne, 19, a freshman at the College of Southern Maryland, won a medal for placing second in the police physical performance exercise.
The teams were divided into three groups of four and each team was tested in three field scenarios - randomly selected from 13 situations including: accident investigation, arrest and search, bomb threat, burglary in progress, domestic crisis intervention, officer down, emergency first aid, hostage negotiation, judgment pistol shooting, shoot/don't shoot, non-emergency vehicle operations course (NEVOC), traffic stops and white-collar crimes. Individual events included air pistol marksmanship, bike policing, police physical performance and the 9mm pistol marksmanship competition.
Post 1658 received certificates for placing in the top 10 percent in the following events:
-- Team 1 - Chris Chamblee, Rick Pickeral, Tiffany Butler and Jessica Sweeney won two certificates of award: one in an arrest and search event in which they also received a perfect score and the other in a domestic crisis intervention.
-- Team 2 - Jania Osborne, Brandi Thomas, Carly Ford and Steven Rands won a certificate in their handling of a bomb threat scenario.
-- Team 3- Brandon Morrison, Angela Campbell, Naja Butler and Katie Collins won a certificate for their handling of a burglary in progress event.
The National Law Enforcement Explorers Conference is conducted every other year and is attended by thousands of law enforcement Explorers and adult leaders. They get together for a week of team and individual competitions, seminars, demonstrations, exhibits, recreation and fun. Their skills are tested through competition-based individual and team events.
Guided by Cpl. Rhett Calloway, Criminal Justice Instructor at North Point High School and lead advisor of Post 1658 and associate advisors - William Donley, Al Davis, Reggie Forbes, and Lori Calloway - the Explorers trained for nearly a year.
On a weekly basis, the team read case laws, studied hundreds of training guides, practiced hands-on exercises and participated in strength and conditioning workouts. "Our Explorers were dedicated to doing their best and ultimately, they represented Charles County well," said Cpl. Calloway.
In addition, the Explorers were responsible for raising money to attend the conference. "So many people contributed to their fundraising efforts. The Charles County community came through for them," said Lori Calloway.
"We learned so much about law enforcement and what it takes to be a police officer," said Carly Ford. "I'm glad we had this experience, there is no doubt it will help me as I move forward in life."
Law Enforcement Career Exploring is open to young men and women ages 14 (and completed the 8th grade) and not yet 21-years-old with an interest in learning more about careers in the field of law enforcement.
Law enforcement Exploring provides educational training programs for young adults on the purposes, mission, and objectives of law enforcement. The program provides career orientation experiences, leadership opportunities, and community service activities. The primary goals of the program are to help young adults choose a career path within law enforcement and to challenge them to become responsible citizens of their communities and the nation. For more information, visit the Charles County Sheriff's Office website at
http://www.ccso.us
.
Source: CCSO