LA PLATA, Md. (September 6, 2012)—The Charles County Sheriff's Office today released the following incident and arrest reports.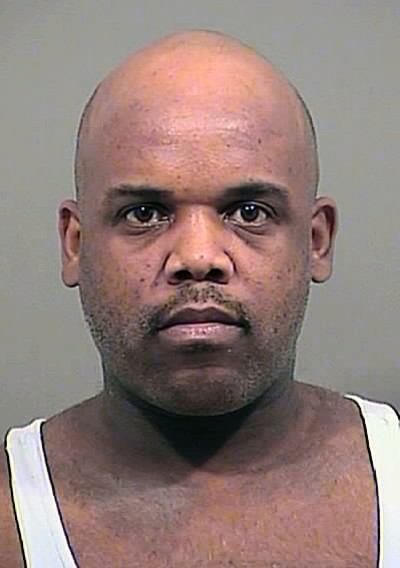 Timothy Doral Hawkins, 41, of Waldorf, was arrested on Sept. 5 and charged with sexual solicitation of a minor. (Arrest photo)
DETECTIVES ARREST MAN IN CONNECTION WITH SOLICITATION OF A MINOR: On Sept. 4, officers were notified of a child solicitation case that occurred in Waldorf. Investigation showed a 15-year-old male began receiving text messages in late August from an unknown person claiming to be a female classmate. The person asked the victim to send lewd photos and described sexual acts they wanted to engage in with the victim. In the days that followed, the person sending the texts actually called the victim who immediately recognized the male voice as that of a man who lived nearby. The youth told his parents who then called police. Timothy Doral Hawkins, 41, of Waldorf, was arrested on Sept. 5 and charged with sexual solicitation of a minor. At this point, no other cases have been reported; however, investigators want to hear from anyone who may have been inappropriately contacted by Hawkins. Anyone with additional information should contact Detective K. Selkirk at (301) 609-6595.
PATROL OFFICERS RECOVER DRUGS AND PARAPHERNALIA DURING TRAFFIC STOP: On Sept. 4 at 7:15 p.m., a patrol officer initiated a traffic stop near Route 228 and Stavors Road in Waldorf after observing a traffic violation. Upon approaching the car, the officer smelled an odor of marijuana. Inside the car, he discovered several baggies of marijuana, a plastic replica of a semi-automatic handgun, drug paraphernalia, fans, humidifiers, dirt, plant food, fertilizer, books and notebooks containing literature on how to grow marijuana, electrical outlets, thermometers, shears, and nine planting pots. The occupants, Jordan Jamaal Jones-Hicks, 19, of Joppa, and Lauren Edwina Kidd, 22, of Waldorf, were arrested and charged with possession of a controlled dangerous substance and possession of a controlled dangerous substance with intent to distribute. Officer K. Lerch investigated.
BURGLARY/ASSAULT: On Sept. 5 at 10:25 a.m., officers responded to the 4600 block of Pretancia Place in Waldorf for a burglary. Upon arrival, officers learned the victim had just returned to her apartment when she observed a lone male standing in the foyer; he was armed with a gun. The suspect told the woman to lie on the ground and she complied. Moments later, the suspect fled and the victim called police. She was not injured. The suspect is described as black male, late twenties to early thirties, 6'3" to 6'4", 230-240 lbs with a stocky build. At the time, he was wearing a baggy long-sleeve white T-shirt, loose blue jeans (cuffed at the bottom) and tan timberland style work boots. There have been no other similar reports. Anyone with information about t his case is asked to call Detective C. Wimberly at (301) 609-6491.
STRONG-ARM ROBBERY: On Sept. 4 at 8:30 p.m., the victim was at a bus stop in the area of Oakly Drive and Wakefield Circle in Waldorf when he was approached by several people who assaulted him and stole money from his pants pockets. The suspects fled and the victim called police. Officers canvassed the area and processed the scene for evidence. Officer E. Webster is investigating.
DESTRUCTION OF PROPERTY: On Sept 1 at 3:33 a.m., officers responded to Miranda Place in Waldorf after a citizen called and reported seeing two white males walking down the street smashing the windows out of cars. Officers arrived and discovered several damaged vehicles. Officer P. DeBoe is investigating.