By MATT FLEMING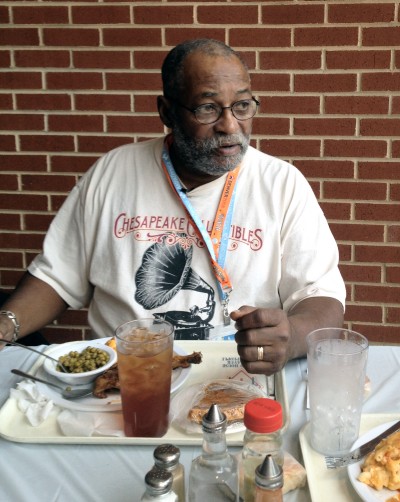 Herbert Graves, a Baltimore native, is the kind of man who is devoted to the things he loves, particularly politics and food. (Photo: Matt Fleming)
CHARLOTTE, N.C.—Herbert Graves is not the type of man to take the path of least resistance. He is not the type of man who obeys a sign on the ingress stairs of a restaurant that says "whites only." He is not the type of man who accepts, "You have to go around," when standing at a guarded break in aluminum barricades.
He is the kind of man who is passionately devoted to living a purpose-driven life—one who works hard for what he wants, whether it be devoting countless hours volunteering for his candidate's election campaign, or finding some good food in the downtown district of a foreign city seemingly devoid of home-style cooking.
One of the 132 Maryland delegates to the Democratic National Convention in Charlotte, the Baltimore native and self-proclaimed political junkie is proud to be a small part of "the best (electoral) system in the world," and to use that role to nominate President Barack Obama as the 2012 Democratic presidential nominee.
"In 2004, Barack spoke at the Democratic Convention," said Graves in a calm drawl over a warm plate of soul food. "He was just on the schedule as a speaker. He was a new senator. I watched the Democratic Convention then, and I heard his speech. I said then, that if he decided to do anything at all—from that point on—that I could help him with, I would."
A mechanic by trade, the 64-year-old Vietnam veteran was a poll judge for about 30 years. A retiree now, he has only recently abandoned his post as poll judge to successfully run for delegate—a position he got by tenacious follow up with well-connected people in Maryland who could sing his praise.
Of course, tenacity only got his name in the mind of voters. It is his longstanding history in grass roots activism that inspires confidence. But his career began before the first date on his political resume, back to his mid-late teens when he started questioning the hows and whys of a world struggling over civil-rights equality.
Graves recalled a time when he walked into a restaurant to get something to eat. As he walked up the stairs, he saw a sign that read, "Whites only." Undeterred, he said, "Well, I'm going in anyway." He sat down at the counter and was served—without conflict—by a young waitress. He remembers being confused by being in Baltimore, in the north, where there were sit-ins, while simultaneously, in the south, there was the history of slavery and sharecropping and he wondered why there were different freedoms in different places.
"That was one of the things that got me started into 'Why'" said Graves. "It's the laws, legislation. Each year you start learning more and understanding more. That was one of the reasons I got involved in politics."
He was one of the founding members of Baltimore for Obama. Having set the meeting in Fells Point, he was surprised when he and a friend of his—the only two African-Americans in the room—walked in to see 27 to 30 white people.
"Are we where we are supposed to be, or did we come to the wrong meeting," Graves recalled thinking.
Quickly, he was pleased to see that everyone on the team believed as he did, and made longtime friends that he still maintains contact with, which he says is one of the greatest joys of working on a campaign.
"Had it not been for this campaign, there's a bunch of people that I would never know," said Graves. "But today, I can get on the phone and call, as if we'd been friends for life."
But campaigns are not all friends-making and inaugurations. He said that having gone door to door, he has been yelled at and argued with; he has been called racial slurs, had doors slammed in his face, and even been spit on. He handles it with the same patience and tolerance that he used to coerce a cab driver to go many blocks out of his way, through inconvenient detours and heavy security checkpoints just to get some food. For him the rejection and insults of going door to door are just small sacrifices for doing something he believes in.
"You have to recruit," Graves said. "Just as you understand the story, you need to explain it. You need folks to understand what you're about and you want them to be about what you're about. If you get two people, great."
The husband and father of four has no political ambitions of his own. Uncertain of his future, he is focused on the next 60 days, doing everything he can to see Obama's second inauguration.