By Alex Panos, The County Times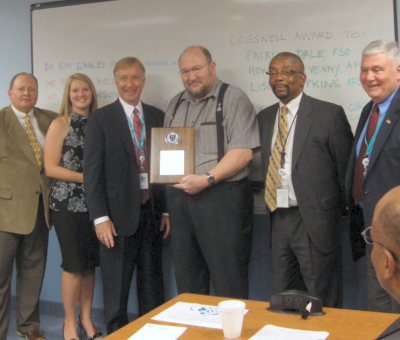 System Planning Corporation employees, from left, Howard Devenny, Air Warfare Group AFSO, Lisa Lumpkins Air Warfare Group Asst. FSO, with the CEO of Corporate System Planning Corporation in Arlington, Va. – Richard Hozik, Patrick Dale, Air Warfare Group FSO, Leon Jones of SPC Corporate FSO, and Sr. Vice President of the Air Warfare Group in Lexington Park, James McFillin. (Photo: The County Times)
HOLLYWOOD, Md.—Local defense contractor System Planning Corporation (SPC) has been recognized for their superior ability to handle confidential information with the 2012 James S. Cogswell Outstanding Industrial Security Achievement Award.
The award has been presented to just 26 out of 13,359 defense contractors subject to the assessment, which places SPC Air Warfare Group (AWG) in the top 1 percent of industry facilities in the security realm according to a release provided by System Planning Corporation.
Howard DeVenny, Assistant Facility Security Officer at SPC believes the "prestigious award" demonstrates SPC's ability to control classified information, both in the "computer world and the secure world."
"We did everything right," he said, summing it up.
According to Devenny, receiving the Cogswell Award helps the company show the government System Planning Corporation's ability to maintain and protect confidential information.
"It's beneficial when bidding on contracts," he said. "It helps display our ability to maintain security.
The distinction this year marks the second time System Planning Corporation has won the Cogswell Award. Corporate headquarters received the distinction in 1971, making SPC's Lexington Park division the company's first branch to be recognized for outstanding security of confidential information.
"For us to win it as a division is just primo," Devenny said. "Even headquarters came down to commend us."
Devenny added the award is also beneficial for corporate in Arlington, Va.
"For SPC to have received this honor twice speaks highly of the experience, expertise and attention to detail in protection of classified information," the release says.
The Cogswell Award is named in honor of the late Air Force Col. James S. Cogswell, the Department of Defense's first chief of industrial security. Cogswell stressed the importance of partnership between industry and government, protecting classified information and developing basic principles of the Industrial Security Program.
"This partnership ultimately ensures the protection of the U.S. warfighter and recognizes industrial security awareness unlike any other award in the security field," the release states.
Read more local stories from The County Times at
http://somd.me/countytimes