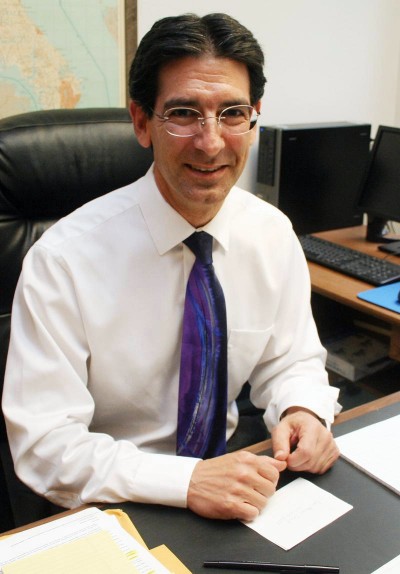 Dr. Larry Polsky replaces Dr. David Rogers as the director of the Calvert Co. Health Dept. (Photo: Cavert Co. Gov)
PRINCE FREDERICK, Md.—Dr. Larry Polsky stepped into his role as health department director Aug. 8. He replaces Dr. David Rogers, who had led the health department for 39 years.
In his job as director, Polsky will also act as the public health officer for the county.
Polsky, an obstetrician/gynecologist, has practiced in St. Mary's County since 1996. Soon after starting his career, he began to look for ways to expand his reach in the community and joined several committees in St. Mary's County.
"Public health has been an interest of mine for many years," Polsky said. "There are a lot of problems that we see in OB/GYN that have to do with social issues and the physical environment.
Those are problems that can't be solved very well in a doctor's office. To make more of an impact on my patients and on the public in general, I thought transitioning to public health would be the way to go."
The Calvert County Health Department is an agent of both the state of Maryland and county government. As the county health officer, Polsky will lead approximately 130 employees to enforce the health laws and regulations of Maryland and the health ordinances of Calvert County. He will oversee enforcement of sanitation and communicable disease regulations and the provision of services that directly benefit individuals and the community.
Polsky will work with county government, public schools and community organizations to address a variety of health issues. "It's everything from traffic accidents and fatalities to prescription drug abuse," Polsky said.
Even with his passion for the subject, Polsky had a difficult time deciding to leave his practice and move into public health full time. He said he will miss the patients he has seen over the years, although he will still be involved in a small amount of patient care through the health department.
Polsky said he is taking the helm of a strong organization. "I don't expect to change a thing," he said. "Dr. Rogers did a wonderful job. The staff is really experienced and they're great at what they do."
Visit the health department online at
http://www.calverthealth.org/
.
Source: Calvert Co. Government