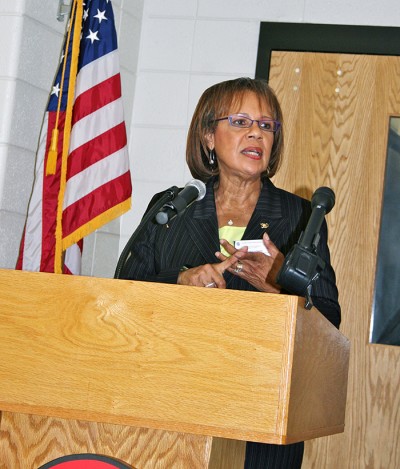 Patti Grace Smith, a consultant and member of the advisory board of the National Air and Space Museum, was the guest speaker at the Educational Exchange and spoke to attendees about being successful in STEM fields. (Submitted photo)
LA PLATA, Md.—Use your imagination, hard work and inner strength. That was guest speaker Patti Grace Smith's message to teachers and students attending the fifth annual Educational Exchange held July 31 at North Point High School.
Smith, a consultant and member of the advisory board of the National Air and Space Museum, encouraged teachers and students to gravitate toward space education. She talked about mentors, space and overcoming adversity as she shared her story, her best and worst times, to encourage students, particularly young women, to pursue careers in Science, Technology, Engineering and Mathematics (STEM) and space. "Women are one half of the workforce, but they are vastly underrepresented in STEM careers," she said.
Smith has been named by Space News as one of the top 10 people in the United States space sector, and she became successful, she said, by having the courage and the ability to stand by her convictions. One of 12 African-American students to join in Lee versus Macon County Board of Education to force desegregation of Alabama schools, Smith faced shotguns and hostility and watched the burning of a school that was intended to scare her away from attending school with white children. A U.S. Marshal warned Smith and her sister of the potential dangers of participating in the test of school desegregation laws, but neither was dissuaded from taking that first step onto the once segregated school bus. Through the experience, Smith said, she learned what she was capable of achieving and that others cannot limit her.
She said her experiences have served her well and led her to the space industry. She told students and teachers to keep their focus on what space can do for "you, me and the world."
"Space is a natural avenue for opening your imagination. Most of us haven't been there yet, so we can imagine what we want it to be," Smith said. She talked about mentors like a grandmother who challenged her to learn and about living in the segregated south with a father who was the first of eight siblings to graduate from college and who later became a Tuskegee Airman. Her father taught her about trailblazing, and demanded she have a plan for her life. "My parents knew who they were and what they stood for and believed in," she said. Her parents taught her to "stand up and be counted" while being the best while doing her best, she said.
"The more you prepare yourself now, the better prepared you will be to take your place in the world. Nothing gained comes without a lot of hard work," Smith said. She implored students to think about a woman who shines brilliantly, may have struggled all of her life, but still had an inner compass to know she achieved. "You have what it takes to be what you want to be," she told students.
"You are here for a reason," Smith concluded. "You can decide to pick space, and if you do, you are in for the thrill of a lifetime."
Samantha Grant, a Westlake High School senior, called Smith inspiring. Grant already knows she wants to major in biochemical engineering and minor in Nano scale science and technology, but said it was nice to hear from a successful woman in the STEM field that it is rich and rewarding work.
Smith has more than 25 years of experience in the U.S. space sector, including with the U.S. Department of Transportation, the Federal Aviation Administration (FAA), and U.S. Department of Transportation. She is now a private aerospace consultant.
Source: Charles County Public Schools