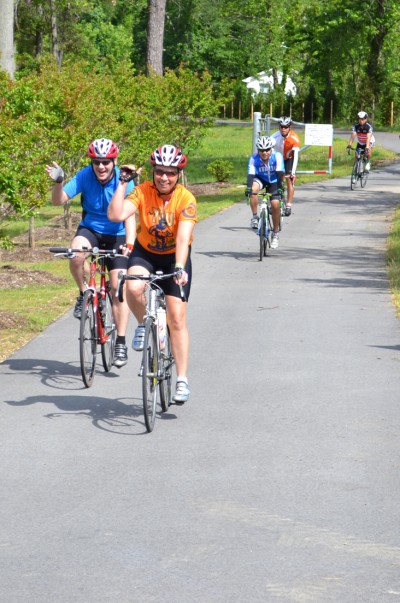 Cyclists on the Three Notch Trail leg of the SMECO 75th Anniversary Bike Ride. (Submitted photo)
HUGHESVILLE, Md.—Southern Maryland Electric Cooperative (SMECO) is celebrating its 75th anniversary of serving the Southern Maryland area this year. The co-op was formed in 1937 to provide electricity to the homes, farms, and businesses located in what was once a very rural area.
As part of its celebration, SMECO hosted a 75-mile bike ride on June 2. Cyclists who preferred shorter distances could take a 29-mile or 47-mile route. The co-op had 375 people register for the event: 97 cyclists registered for the 29-mile route; 128 registered for the 47-mile route; and 150 registered for the 75-mile route.
Bike riders came from Maryland, DC, Virginia, Pennsylvania, and West Virginia. More than half of the cyclists were 50 years old or older. The youngest registered cyclist was 10 years old.
The weather on Friday afternoon was threatening-with storm and tornado warnings being issued-but by Saturday morning the skies were clear and the weather was breezy and sunny. Some of the cyclists decided to go the longer route since the weather was so good. Some even returned to the starting point and went out again to do the short route.
Registration opened at 7:30 a.m. and closed at 9:30 a.m. Cyclists could stop at four designated rest stops, which were stocked with peanut butter and jelly sandwiches, trail mix, oranges, bananas, grapes, and raisins, as well as water and Gatorade. Cyclists received subs for lunch at SMECO's Hughesville headquarters, the starting and finishing point for all the routes. Winners of random drawings received a variety of bicycle-themed prizes ranging from air pumps and mirrors to speedometers and water bottles.
SMECO president and CEO, Austin J. Slater, Jr., said "All day long we received compliments from the cyclists. They were very appreciative and couldn't say enough nice things about how smoothly everything went. They raved about the registration process, the food, the rest stops, the route, and the overall organization of the event. They were especially complimentary of how nice all of the volunteers were! They asked over and over if we planned to do it again-and they said they would gladly come back."
In other 75th anniversary events, SMECO residential account holders have won prizes from local businesses. During February seven customer-members were randomly selected to win jewelry from Blair's Jewelry and Gifts in California, Cecil's Country Store in California, Dickinson Jewelers in Dunkirk and Prince Frederick, Golden Renaissance Jewellers in Waldorf, Joson Jewelry and Home Boutique in La Plata, Maerten's Fine Jewelry in Solomons, and Rick's Jewelers in California. During March, customers won electric appliances from Addie McBride, a real estate agent with Franzen Realtors in Lexington Park, Black Belt Academy of Prince Frederick, Chesapeake Pet Resort and Day Spa in Hollywood, and Glover's Septic in Huntingtown. April's prizes were donated by Dyson Building Center in Great Mills, Everything Amish in Hughesville, The Greenery Nursery in Hollywood, and Tractor Supply Company in White Plains. April's prizes featured a tool chest, glider bench, and solar-powered lighthouse. Prize winners are listed in SMECO's monthly newsletter and on the Co-op's website.
In March, youngsters could participate in anniversary events by submitting artwork based on the theme, "What can you do to help save energy?" SMECO worked with the local libraries to promote the art entries. More than 30 students submitted their artwork, which is featured on SMECO's website at
http://www.smeco.coop/75years/.