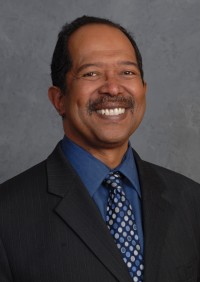 Kwasi Holman is the new Director of Economic Development for Charles County. (Submitted photo)
LA PLATA, Md.—The Charles County Commissioners announced the appointment of Mr. Kwasi Holman as the Director of Economic Development. Mr. Holman will begin work with Charles County Government on July 16, 2012.
Mr. Holman brings to Charles County Government more than 30 years of economic development, banking, small business turnaround, legislative affairs, policy analysis, and marketing experience. From 2004-2011, Mr. Holman was President and CEO of the Prince George's County Economic Development Corporation (PGEDC), directing the operations of one of the region's largest economic development corporations. He led the initiation and implementation of a retail outreach program that attracted Wegmans, a major regional supermarket chain, and one of the largest private companies in the U.S. His work with PGEDC included establishing a $135 million initiative to assist local and minority companies with contracts, and spearheading efforts to create $48.6 million in private investment and more than 1,500 jobs.
"As we continue to make economic development a high priority as a Board, it is important to have someone in this position who values and understands the challenges of the private sector, as well as how county government works," said Commissioner President Candice Quinn Kelly on behalf of the Charles County Board of Commissioners. "Mr. Holman brings experience from both arenas, and has the experience necessary for success."
"I am excited to join the Charles County Government, and I am excited about the county's potential growth as an economic engine in the Washington metropolitan area," said Mr. Holman.
Prior to his employment with PGEDC, Mr. Holman was President and CEO of the New York Avenue Development Corporation; Executive Vice-President of the District of Columbia Chamber of Commerce; Executive Director of the Ellington Fund; Senior Vice-President of the National Bank of Washington; and Executive Director of the District of Columbia Office of Business and Economic Development.
At the District of Columbia Chamber of Commerce, Mr. Holman directed and administered programs to heighten visibility and enhance membership. Under his leadership, membership increased from 250 to nearly 1,000, making it the largest Chamber of Commerce in the metropolitan area. He was the principal legislative affairs liaison for a successful campaign to attract the MCI Center (renamed Verizon Center) to Washington, D.C.
As a principal of The Holman Group, Mr. Holman provides strategic advice to clients on a range of economic development projects and strategies. Among other accomplishments, he developed an Economic Development Implementation Workshop for the City of Mount Rainier, Md., to guide future development decisions in the city.
Mr. Holman has an extensive list of professional and volunteer affiliations. Currently, he serves as Chairman of The Community Foundation of Prince George's County, is a Board Member for The Community Foundation for the National Capital Region, and is a Junior Warden and Member of the Vestry at St. Augustine's Episcopal Church. He is the Immediate Past President of the Maryland Economic Development Corporation, and a former Board Member of the Economic Development Finance Corporation.
Mr. Holman holds a Juris Doctor degree from Howard University School of Law, a Bachelor of Arts degree from Wesleyan University, and a certificate in Principles of Fundraising from The Fundraising School of the Center for Philanthropy at Indiana University.
As the Director of Economic Development, Mr. Holman will be responsible for managing and directing all activities involving economic development in Charles County, including representing the County to new and expanding businesses and cultivating relationships between the county and business community, economic development agencies, and state and regional agencies.
Source: Charles County Government