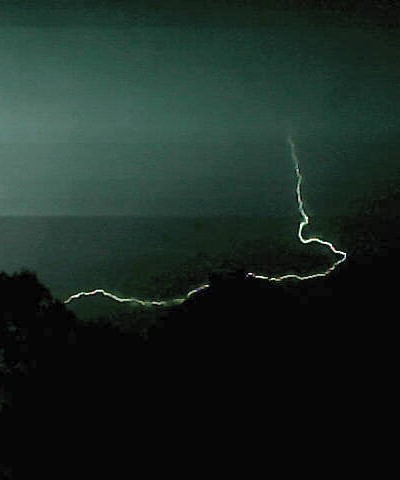 A security camera caught this lightning during the thunderstorm Friday night that knocked out power to tens of thousands across the region. (Photo: David Noss)
CALLAWAY, Md.—An intense thunderstorm rolled into Southern Maryland just before midnight Friday, which brought high winds that knocked out power to 61,745 SMECO electricity customers. SMECO cited the cause of outages as trees are down, wrapped in lines, and leaning on lines, and poles are broken. As of 1 p.m. Saturday, SMECO says major restoration efforts are underway. The storm followed an intense day of heat and humidity; temperatures topped 100 degrees.
At 2:30 a.m. on Saturday, SMECO had approximately 61,745 customers without power, and had six transmission lines out. Transmission lines serve substations and must be in service in order for the feeders coming out of substations to be operational. At that time, 13 substations and 60 feeders were out.
As of noon Saturday, SMECO had about 35,100 customer-members without power. The most heavily affected area is Charles County with 23,500 customers without power. Approximately 4,500 customers in Calvert County, 3,700 in St. Mary's County, and 3,400 in Prince George's County are without power. More than 1,000 outage incidents have been reported. An incident is a damage event which can range from a blown transformer to a tree on a line or a broken pole. As of noon, 8 feeders were down.
All crews are working along with contract crews from Pike, Penn Line, and C.W. Wright. Additional contract crews will arrive Sunday morning. Some customers may not have power restored until Monday.

This chart shows the number of SMECO customers without power broken down by county. (Source: SMECO)
SMECO's outage restoration policy is to make repairs that will restore service to the most people in the least amount of time. Transmission lines and substations are repaired first, followed by distribution lines that feed neighborhoods. Tap lines and individual service lines are then repaired to restore power to customers who may still be without electricity.
Customers without power should call SMECO's Outage Hotline at 1-877-74-SMECO or 1-877-747-6326. Customers are reminded to use generators outdoors, use gas and charcoal grills outdoors, and use flashlights instead of candles.
Roads closed in Charles Co.
The following roads in Charles County are closed as of 1:30 p.m. Saturday due to last night's storm:
-- Route 225 at Sleepy Hollow
-- 8285 Hawthorne Road
-- 8090 Hawthorne Road
-- Billingsley Road at Brookwood
-- Berry Hill Road
Citizens are advised to use caution when traveling roadways, avoiding road closures whenever possible.
Road closure information will be posted online at
www.CharlesCountyMD.gov
as it becomes available.
CSM La Plata Campus Closed
The La Plata Campus only is closed today, June 30, due to an electricity outage.
IF STORMS DAMAGED YOUR PROPERTY, FOLLOW THESE STEPS
Insurance Commissioner Therese M. Goldsmith advises Marylanders whose property was damaged by strong storms to follow these guidelines to help with any insurance claims they may file:
-- Contact your insurance company or agent immediately.
-- Take photographs or video footage of any damage.
-- If you have to relocate, even temporarily, make sure your insurance company or agent knows how to reach you.
-- Before you remove any damaged property from the premises, be sure an insurance adjuster or your agent has seen it first.
-- Keep all receipts for emergency repairs and for temporarily living expenses.
-- Make only those repairs necessary to prevent any further damage to your home or business. Do not make permanent repairs without consulting your agent or company, as unauthorized repairs may not be reimbursed.
-- Obtain estimates of the damage to the property from at least two contractors.
-- Make a detailed list of all damaged property.
-- If your insurance company denies any part of your claim, keep all of the paperwork they send you. If your area is declared a disaster by the federal government, you may be eligible to file for federal relief by providing that proof.
-- If you hire a public adjuster, understand that your insurance company is not obligated to follow what a public adjuster determines to be your loss.
-- Read your policy carefully so you understand what is covered and what is not.
For more information, visit the Maryland Insurance Administration's website,
http://www.MdInsurance.state.md.us/
. Look for the link to Insurance Preparedness for Natural Disasters, under Hot Topics.