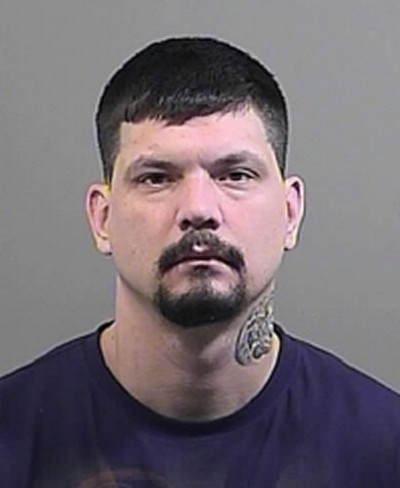 Matthew Derek Correll, previously of King George, Va. has been convicted in the murder of Waldorf resident Chris Mader. (Arrest photo from 2010)
LA PLATA, Md. (June 29, 2012)—After hearing four days of testimony, today a Charles County jury deliberated for two hours and convicted Matthew Derek Correll of the murder of Christopher Mader on Thanksgiving Day in 2004. Correll was convicted of First Degree Murder, Use of a Handgun in a Crime of Violence and Conspiracy to Commit Armed Robbery. He is scheduled to be sentenced on August 21, 2012.
The Mader case received significant publicity because of the lack of leads in the case and the seemingly random nature of the crime. Mader, a bartender at Bennigan's in Waldorf and an aspiring sportscaster, left work in the early morning hours on Thanksgiving 2004 to go home. He was later found in his car on his usual route home suffering from a single gunshot wound to the head. His car had left the roadway, struck some signs and came to rest after crashing into two electrical boxes. The case went unsolved for years. Correl was not arrested until 2010 after years of investigation, the pledging of substantial reward money and even America's Most Wanted exposure.
Tony Covington, State's Attorney for Charles County and his Deputy Karen Piper tried the case. Covington reacted to the verdict saying he was "gratified that after all these years we had a hand in bringing closure and, I hope, an increased sense of peace to the Mader family." Covington heaped praise upon the Charles County Sheriff's Office for their great detective work. "Those guys just never gave up. They turned over every stone and ran down every lead - promising or otherwise. It was the most thorough investigation I've ever seen. There is no question they arrested the right man and, thankfully, we were able to present the evidence they generated in such a way that the jury agreed we have the right guy. This is a tremendous accomplishment for peace loving citizens and law enforcement everywhere."
A second man was also arrested in the murder. Shawn Marshall Myers, 33, of Waldorf, was arrested in June of 2011 by the Charles County Sheriff's Office. According to the Maryland judiciary database (Case Number:
08K11000420
), Myers is scheduled to be sentenced on July 6. Three earlier sentencing hearings, dating back to February 2012 were postponed.
Source of first 3 paragraphs: Office of State's Attorney for Charles County
RELATED INFORMATION:
King George Man Arrested in Mader Murder, October 28, 2010
http://somd.com/news/headlines/2010/12707.shtml
Second Suspect Arrested in Homicide of Chris Mader, June 30, 2011
http://somd.com/news/headlines/2011/14018.shtml