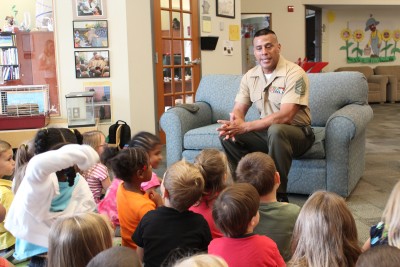 CSM elementary education student Vincent Juarez, who retired from the Marine Corps in 2009, was the Celebrity Reader at the St. Charles Children's Learning Center on the La Plata Campus of the College of Southern Maryland May 23. Juarez drew on his teacher education training as he patiently listened as the talkative 3- to 5-year-olds shared with him their favorite colors, the favorite colors of their parents, best friends—and even their pets—as he read "Percival the Plain Little Caterpillar," by Helen Brawley.
LA PLATA, Md.—Rwanda was only 10 years removed from a national genocide that nearly destroyed the country when Gunnery Sergeant Vincent Juarez, of Accokeek, was assigned to open the Marine Corps detachment at the American Embassy in Kigali in 2005. Juarez, who had served at embassies in Hong Kong and Seoul, said that because of the poverty he saw, his work in Rwanda was especially heartbreaking. It wasn't all bad though. During his time in Rwanda Juarez would find the love of his life and the motivation to pursue a career in teaching.
"I got to travel the world and see a lot of kids out there, and I wanted to see for myself if I could make a difference for the kids in this country. What better way to do that than to be a teacher, to be a mentor, to be a model," Juarez said. He also drew on his experiences teaching adults in the Marine Corps. "I saw the 'ah-ha' moments when the light went off, when something that I was trying to teach actually made sense to them. They grasped it and it meant a lot to me. I wanted to see how that effect would be with kids."
When Juarez retired from the Marine Corps after 21 years in 2009, he enrolled in the College of Southern Maryland's elementary education program. Now a sophomore, Juarez has had classroom opportunities that have solidified his decision to teach. Juarez is interested in teaching first through fifth grades, he said, because he likes the years between pre-school runny noses and middle school sassiness. A father of two, Juarez hopes to earn his bachelor's degree in teaching and begin his teaching career while his 5-year-old is still in elementary school. "I would love to teach in his school, and even better to teach his class," said Juarez.
Through a partnership between CSM and Towson with the 2+2 transfer program, students can spend their first two years at CSM with the remaining two years, including summers, at Towson's extension center at the Waldorf Higher Education Center.
"What students like about this program is the ability to student-teach close to home," said CSM Education Professor Beth Settle. "Many students have the ultimate goal of teaching in one of the Southern Maryland counties. This program gives them an opportunity to meet and network with teachers in Calvert, Charles and St. Mary's counties," Settle said.
The ability to continue taking classes close to home appeals to Juarez, whose wife's job at the State Department often takes her far from home. Juarez often doesn't begin his classwork until his boys are in bed for the night, meaning that he spends many hours studying while most people are asleep.
You won't hear any complaints from Juarez, though.
"It should be a requirement that people here in this country see and visit other countries that are not so privileged. When you see people, first-hand, that are truly going through difficult times you have a much deeper appreciation of what you've got," he said.
This is the perspective he wants to bring to students in Southern Maryland.
For information on CSM's elementary education program, visit www.csmd.edu or contact Settles at elizabeth.settle@csmd.edu.
Source: CSM