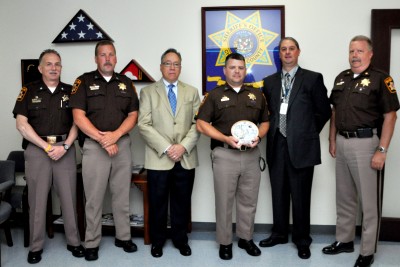 Pictured from left to right are Lt. Col. Joseph C. Montminy, Jr., Chief Assistant Sheriff; Capt. Daniel Gimler, commander of the Patrol Division; Knights of Columbus Chancellor Calvin Bowie; Sgt. John Hastings; Knights of Columbus Deputy Grand Knight Mark Shutters; and Major Rob Cleaveland, Assistant Sheriff of Operations. (Submitted photo)
LA PLATA, Md.—The Knights of Columbus recently named Sgt. John Hastings, a patrol supervisor at the Charles County Sheriff's Office, as its 2011-2012 Police Officer of the Year. Deputy Grand Knight Mark Shutters and Chancellor Calvin Bowie presented Sgt. Hastings with the award at the Sheriff's Headquarters June 4.
The award recognizes Sgt. Hastings actions during the pursuit of an armed burglary suspect. On Sept. 23, 2011, Sgt. Hastings was canvassing a Bryans Road neighborhood for the suspects who stole a handgun and other items during a residential burglary. He saw two male suspects emerge from a wooded area and confronted them. One of the suspects ran onto a wooded path. With Sgt. Hastings in pursuit, the suspect ran into an adjacent neighborhood and around several homes while repeatedly attempting to retrieve a handgun tucked in his waistband. After realizing his ultimate apprehension was inevitable, the suspect tossed the handgun aside and surrendered. Sgt. Hastings took the suspect into custody. Investigators confirmed the suspect had committed the burglary and stolen the handgun, and later identified him as the culprit in other recent burglaries.
"Sgt. Hastings exhibited courageousness, bravery and self-sacrifice as a means by which to ensure the safety and well-being of others in the community," Deputy Grand Knight Shutters said when he presented the award. "Sgt. Hastings' due diligence is emblematic of the Agency's mission and values."
The Knights of Columbus annually recognizes police officers, firefighters, EMTs, Catholic teachers and citizens who have contributed to the community.