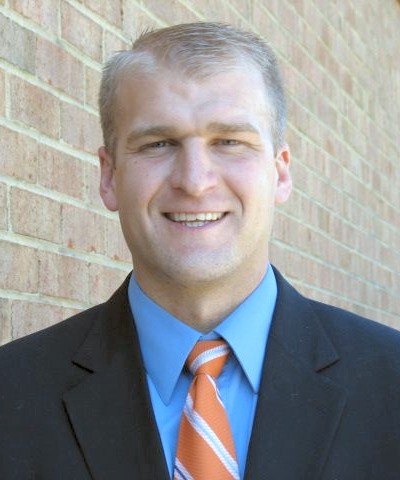 Michael Meiser is the new principal of Thomas Stone High School in Waldorf.
LA PLATA, Md.—Michael Meiser has been named as principal of Thomas Stone High School, filling a vacancy created by the retirement of Stone Principal Larry Martin.
The Board of Education on Tuesday approved the appointment of Meiser who has served as vice principal at the school since 2007. Meiser has spent his career with Charles County Public Schools (CCPS) and started in 1993 as a high school social studies teacher at Westlake and La Plata high schools before being named in 2004 as vice principal of Benjamin Stoddert Middle School. Additionally, he served from 2002-2007 as the administrator in charge of the Middle School Summer Reading and Math Academy sites.
"Being appointed as principal at Thomas Stone High School is an honor. After serving here for five years as a vice principal under Mr. Martin, and knowing many of the former outstanding principals that have preceded me, this appointment is very humbling. Like Mr. Martin, the previous school leaders have laid the foundation of an outstanding school here at Thomas Stone, always putting the best interest of the students first. We will always continue to put the best interest of the students first, as we prepare them for career and college readiness. I am excited to lead the school forward with fairness, consistency and compassion for all. In addition, I look forward to continue working with staff, students, parents and community members to continue to make Thomas Stone High School the best it can be," Meiser said.
Meiser replaces Martin, who has served as principal at Thomas Stone since 2005. Martin was hired as principal of Westlake High School in 2000. He started his career in education in 1970 with Prince George's County Schools where he served as a teacher, vice principal and dean of academic and student affairs.
"Mr. Martin has been very influential in my leadership and personal growth, and for that I would like to thank him. Although Mr. Martin may be retiring and moving on, much of what he has created at Thomas Stone High School will live on. I would like to wish Mr. Martin well in his retired life and thank Superintendent James Richmond and his leadership team for having the confidence in me to guide the school forward into a new era of career and college readiness. Thomas Stone High School will continue to strive to provide the most marketable young adults that Charles County Public Schools can provide," Meiser said.
Meiser has his masters of education in School Administration and Supervision from Bowie State University and his Bachelor of Science in Education and Bachelor of Art and Science History from Bloomsburg University of Pennsylvania. His appointment takes effect July 1.
Source: Charles County Public Schools