Teenage Victims Targeted Through Social Media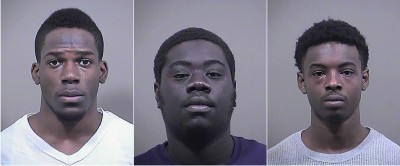 Jalen Rayvon Pickett, 19, of Clinton, on left; Rostelle Donte-Lawrence Bethea, 19, of Upper Marlboro, center; and Marlon Jermaine Robinson, 19, of Clinton, on right, have been arrested and charged in connection with a "clothing swap" robbery conspiracy that used Facebook to bait the teenaged victims.
LA PLATA, Md.—Charles County Sheriff Rex W. Coffey said detectives assigned to the Criminal Investigations Division have charged three people in connection with a robbery that stemmed from a tennis shoe swap set up through social media. Sheriff Coffey is encouraging parents to monitor the activities of their children who use the internet and to pay close attention to any clothing exchanges that are mentioned.
Detectives say that on May 5, Jalen Rayvon Pickett, 19, of Clinton, posted a picture on Facebook of a pair of Nike brand Kevin Durant Galaxy tennis shoes he owned and said he was willing to trade them with anyone who had a pair of Nike brand Air Jordan 12's. Pickett received a response from a 14-year-old male who said he had the shoes Pickett wanted. The two agreed to meet later that evening at an address in Waldorf.
When Pickett arrived at the address, he told the victim and his friend - a 16-year-old male - to get into his car; they agreed. As Pickett and the victim exchanged shoes, two male suspects approached the car. One suspect pulled a handgun, pointed it at the victim and demanded the Air Jordan's as well as the tennis shoes the victim was wearing. The other suspect threatened the victim's friend with a weapon and stole money from him. As the victims fled, they noticed that Pickett remained in the area and was talking with the two suspects. The victims called police and provided a description of the suspects. Pickett had left prior to police arrival.
Through further investigation, detectives learned Pickett was actually a participant in the robbery and they also linked him to a similar robbery in Prince William County, Virginia.
Based on information from both cases, CCSO detectives obtained an arrest warrant charging Pickett with armed robbery; he was arrested on May 17. The other suspects, Rostelle Donte-Lawrence Bethea, 19, of Upper Marlboro, and Marlon Jermaine Robinson, 19, of Clinton, were subsequently identified and charged with armed robbery, first-degree assault, second-degree assault, theft and use of a firearm during a felony. All three suspects are currently being held in the Charles County Detention Center on bond.
Sheriff Coffey said it is important for parents to know that if their teens wear expensive clothing, there could be risks. "Bottom line, there are people out there who want these items just as much as your children do and they will go to any lengths to get it, including robbery. We hear about these types of things all the time on the news and think, 'that won't happen to my kids,' but the truth is this can happen to anyone, anywhere at any time across the nation."
Further, Sheriff Coffey urged parents to pay close attention to the activities of their children who use social media. "Very often, you can tell what your children are up to if you take a look at their activities on the internet. I would strongly encourage close monitoring of their use of social media," said Sheriff Coffey.
Source: CCSO