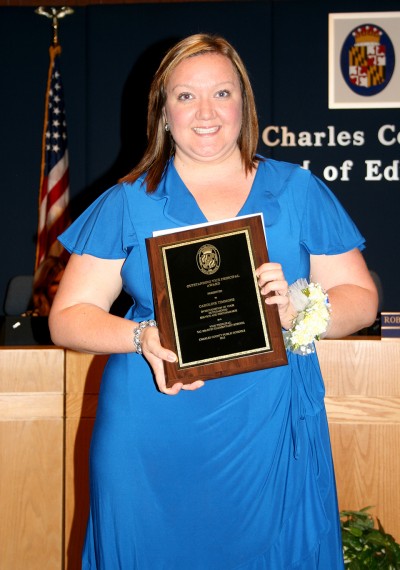 Caroline Timmons is the 2012 Charles County Public Schools Vice Principal of the Year.
LA PLATA, Md. (June 22, 2012)—Caroline Timmons, vice principal at T. C. Martin Elementary School, is the 2012 Charles County Public Schools Vice Principal of the Year. Timmons, who has been an administrator with the school system since 2007, said she was honored just to be nominated for the award.
"I am very honored and humbled to receive this award, especially in a district with so many exemplary administrators. I was honored just to be nominated by the T.C. Martin family. The award is a true reflection of our school," Timmons said.
She was nominated for the award by a committee comprised of staff at Martin, including Principal Greg Miller, Melissa Pascarella, instructional specialist at Martin, Mollie McCauley, a teacher, and Juliana Herscher, reading resource teacher. Her nomination describes Timmons as an educational leader who demonstrates a strong commitment to academic achievement and professional growth, as well as a strong community supporter and advocate for children.
"She has an infectious personality. People love to be around her, and to know her. From the early morning greetings in the hallway, to the enthusiasm she displays when she calls the parents of a child who got a positive office referral, her personality is engaging and motivational. She goes to every school event, and is a great ambassador for our school and school system," Miller wrote in a nomination letter.
Timmons is well-known among staff and students for displaying a caring demeanor and a positive outlook in all that she does. In an award nomination letter written by a group of second-grade teachers, Timmons is described as having a "huge heart" and always having her finger firmly on the pulse of the school. According to the letter, "Timmons is always aware of exceptional circumstances that arise and might need special attention. Her caring attitude towards all is noticeable. We could not ask for a more involved, dedicated and caring vice principal."
Timmons began her career with Charles County Public Schools in 2007 as vice principal at Martin. Before she became an administrator in Charles County, she taught at the elementary school level in St. Mary's County for five years. She received both her bachelor's and master's degrees from Towson University. Timmons was honored by the Board of Education on June 12. The Board honors one outstanding vice principal each year.
Source: Charles County Public Schools