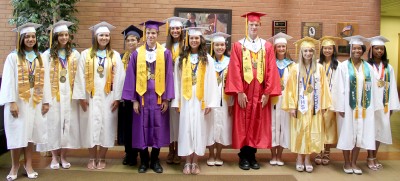 Charles County Class of 2012 Valedictorians and Salutatorians are, from left: Crystal Dionisio, Henry E. Lackey High School salutatorian; Emily Macri, Lackey valedictorian; Casey Rollins, La Plata High School salutatorian; Raleigh Joyner, La Plata valedictorian; Matthew Haldeman, Maurice J. McDonough High School co-salutatorian; Erica Richardson, McDonough valedictorian; Katie Turner, McDonough co-salutatorian; Cayley Dymond, North Point High School co-valedictorian; Christopher Hartline, North Point salutatorian; Natalie Griffin, North Point co-valedictorian; Daryllee Hale, Thomas Stone High School salutatorian; Jemm Excelle Dela Cruz, Stone valedictorian; Misha Stone, Westlake High School salutatorian; and Felicia Dillard, Westlake valedictorian. [Click on photo for
larger rendition
]
LA PLATA, Md.—Charles County Public Schools honored 2,192 seniors on June 4 and June 5 during graduation ceremonies for six high schools. Students in the Class of 2012 were offered nearly $52 million in scholarships.
Valedictorians and salutatorians were announced last week at awards ceremonies. These positions are determined by students' grade point averages and represent the top academic achievers at each school.
Henry E. Lackey High School's valedictorian is Emily Macri of Nanjemoy and the salutatorian is Crystal Dionisio of Marbury. Macri plans to attend the University of Maryland College Park to study architecture. Dionisio plans to study psychology at Mount St. Mary's University.
La Plata High School's valedictorian is Raleigh Joyner of Charlotte Hall and salutatorian is Casey Rollins of La Plata. Joyner plans to attend the University of Maryland College Park and major in linguistics. Rollins is headed to the University of Virginia where she will major in engineering.
Erica Richardson of La Plata is Maurice J. McDonough High School's valedictorian. She is attending the University of Maryland College Park in the fall to study political science. McDonough has two co-salutatorians – Katie Turner of Newburg and Matthew Haldeman of La Plata. Turner, who has not declared a major, plans to attend the University of Maryland College Park and Haldeman will study physics at Marshall University.
North Point High School has two co-valedictorians – Cayley Dymond and Natalie Griffin, both of Waldorf. Salutatorian is Christopher Hartline of La Plata. Dymond plans to attend Purdue University and major in aerospace engineering. Griffin will attend the University of Maryland College Park and plans to major in journalism and international relations. Hartline plans to major in cellular and molecular biology at Rensselaer Polytechnic Institute.
Representing Thomas Stone High School are Jemm Excelle Dela Cruz of Waldorf as valedictorian and Daryllee Hale of Waldorf as salutatorian. Dela Cruz will attend Georgetown University and plans to study science, technology and international affairs. Hale has not declared a major, but will attend Towson University.
Westlake High School's valedictorian is Felicia Dillard of Waldorf and salutatorian is Misha Stone, also of Waldorf. Dillard plans to major in neuroscience at Johns Hopkins University. Stone will attend Brown University in the fall and plans to study economics.
2012 graduation numbers by school – (unofficial data as of 6/5/2012)
Henry E. Lackey High School
-- Total graduates: 284
-- Total scholarship money offered: $5,500,000
La Plata High School
-- Total graduates: 341
-- Total scholarship money offered: $6,937,688
Maurice J. McDonough High School
-- Total graduates: 287
-- Total scholarship money offered: $6,502,277
North Point High School
-- Total graduates: 542
-- Total scholarship money offered: $13,978,586
Thomas Stone High School
-- Total graduates: 380
-- Total scholarship money offered: $10,396,000
Westlake High School
-- Total graduates: 358
-- Total scholarship money offered: $8,651,552
Charles County Public Schools Totals
Total graduates: 2,192
Total scholarship money offered: $51,966,103
Source: Charles County Public School System