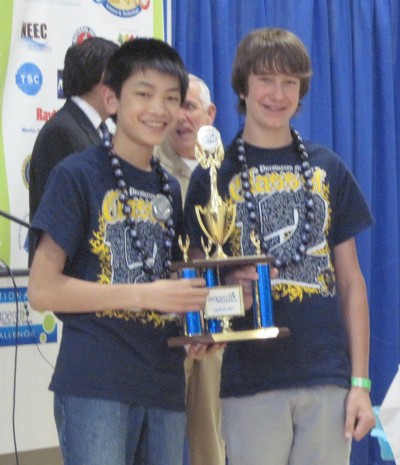 Pictured are Piccowaxen Middle School eighth graders Matthew Fan, left, and Tyler Stanley, right, who won a third place award at the national SeaPerch championship held in April.
LA PLATA, Md.—A team from Piccowaxen Middle School earned a third place award at the National SeaPerch Challenge held in April. The two-member "Savants" team of eighth graders Tyler Stanley and Matthew Fan placed third at the middle school level among more than 35 schools in the poster presentation and interview portion of the competition, held April 11-13 at the Manassas Park Community Center in Virginia. Team coach is Teresa Jones, gifted education teacher at Piccowaxen.
The event featured more than 80 teams and students competed in challenges using operational remote-controlled underwater robots they constructed. Teams competed in a poster competition, in which students delivered oral presentations about their robot design and construction challenges. The technical competitions included an obstacle course and an underwater robot operations challenge.
In addition to the Savants team from Piccowaxen, additional teams from Piccowaxen, Theodore G. Davis and Milton M. Somers middle schools competed at the event. The SeaPerch program is an underwater robotics program that trains teachers to teach their students how to build an underwater remotely operated vehicle. Students build the vehicle from a kit and follow curriculum that focuses on engineering and science concepts with a marine engineering theme.
As part of the program, students work with assigned education partners from the Naval Surface Warfare Center, Indian Head Division – Matt Mitchell, Tom Palathra, and Heather Zdobysz - to learn about naval and marine engineering, robotics and other science, technology, engineering and mathematics (STEM) based concepts. Members of the school communities also volunteer to assist the students with the program.
The national SeaPerch program is sponsored by the Office of Naval Research (ONR). For more information on the program, visit
http://www.seaperch.org
.
Source: Charles County Public Schools