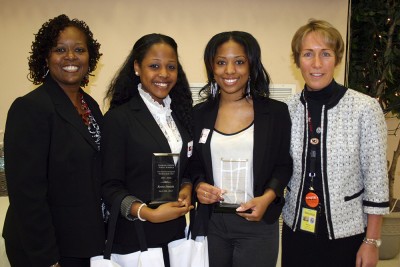 Career Research and Development (CRD) Students of the Year are Keona Daniels, center left, and Kayla Reynolds, center right. Also pictured are Alicia Pierce, left, North Point High School CRD teacher, and North Point Principal Kim Hill.
LA PLATA, Md.—Keona Daniels and Kayla Reynolds of North Point High School were named as the Career Research and Development (CRD) Students of the Year for 2012 at the annual employer/employee breakfast. It is the first time two first-place winners have been named.
Allentown Fitness and Splash Park employed Reynolds and Daniels worked for Lakeside Childcare Center in Waldorf. Both were selected following three levels of competition both at the school and county levels. Committees composed of staff members, community members and business representatives interviewed students. Daniels and Reynolds tied at both the school system and community interview levels.
"I have enjoyed my time in the CRD II/Work-based Learning program (WBL). I have gained transferable skills, learned to network and create resumes. I have had a wonderful experience in this course, and the knowledge I've gained will be carried with me throughout my future endeavors," Daniels said.
Reynolds said she would recommend the program to other students. "The work-based learning program has been such a learning experience for me. I've learned numerous skills such as building a resume, cover letter, preparing for an interview, how to read my W-2, how to dress for success, and much more. I will be able to use these skills not only for my future career endeavors, but also in college as well. I would highly recommend this program for any student who is interested in preparing for their future in college or the work force," Reynolds said.
Other award finalists are Krista Clower, La Plata High School; Melissa Core, Henry E. Lackey High School; Dionna Coppock, Maurice J. McDonough High School; Khadijah Dorsey. Thomas Stone High School; and Destini Baldwin, Westlake High School.
Alicia Pierce, North Point CRD teacher, said having two student winners made the completion of her first year as a CRD/WBL teacher special. "Being that this is my first year as a CRD/WBL Teacher, it was extra exciting to have two students named CRD Students of the Year, versus the usual one. Both students are excellent and I have enjoyed having some level of influence on their lives," Pierce said.
Employers and student employees gathered at the Greater Waldorf Jaycees Community Center on April 26 for the annual Charles County Public Schools Career Research and Development Employer-Employee Breakfast. CRD was formerly known as the Cooperative Education program. The CRD program provides a bridge from school to work and provides classroom instruction along with work experience and on-the-job training related to a student's career goals.
Started in 1971 at La Plata and Lackey high schools, cooperative education expanded to Thomas Stone in 1972, and to McDonough in 1979. Westlake started offering the program in 1998. North Point launched the program in 2009 with its first senior class.
Source: Charles County Public Schools