By SOPHIE PETIT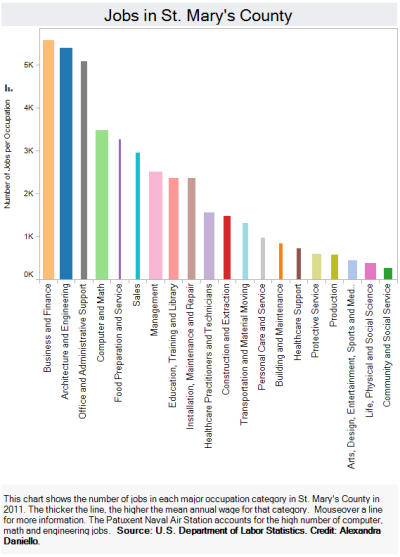 Click chart for larger, interactive version.
ST. MARY'S CITY, Md.—The defense industry, the biggest employer in St. Mary's County, provides high salaries for its well-educated employees. But for the thousands of residents with fewer skills, incomes remain low while living costs keep rising.
"We have a land of riches, but have a portion of the population that is still struggling to be included in that wealth," said Robin Finnacom, who runs a local community development nonprofit.
The Patuxent River Naval Air Station has been at the center of high-end employment for St. Mary's residents since it was built 70 years ago, but its highly paid positions require a degree. Many county officials say more education and training for the lower-skilled residents is the solution to closing the income gap.
After major expansions in the 1980s and 90s, the air station employs more than 15,000 county residents, said Gary Younger, the base public information officer.
Base employees make an average of $100,000 a year, according to the county's 2012 Technology Handbook. In addition, more than 200 defense contractors have offices in the county and pay an average salary of about $76,000.
That makes the defense industry the engine behind the steady rise in the county's median income to more than $80,000. Those incomes have shielded thousands of residents from the brunt of the economic recession.
But those salary statistics mask the financial problems of a substantial share of the population that is barely getting by.
About 70 percent of St. Mary's residents 25 and older lack a college degree. That means they are not eligible for many jobs on the base, where Younger said three out of four employees have at least a bachelor's degree.
The next largest employers after defense in St. Mary's County are retail and tourism, said Donna Sasscer, the county's agriculture manager, who works with the county's Department of Economic and Community Development.
Jobs in food preparation and serving account for 7.7 percent of the workforce. Those jobs pay on average $9.76 an hour, or about $20,000 a year, according to the United States Bureau of Labor Statistics.
Costs have risen. For example, rents increased about 25 percent, while rents in Maryland increased about 21 percent.
"People who can't compete are in a double bind," said Finnacom, who is president of St. Mary's County Community Development Corporation, which aims to increase employment opportunities through commercial and residential redevelopment. "The cost of living has gone up to meet market demands of a more affluent population, and they get left behind," she said.
The corporation helps county residents obtain better jobs through their Jobs Connection Program. Low-wage employment is often a dead-end, so the program provides workshops and training to assist St. Mary's residents in starting careers that have room for promotion.
The income disparity between higher- and lower-educated residents has existed for decades, since the base began expanding, said Tony Jones, the county's public information officer. The skills needed for jobs at the base and contractors are so specialized that many people don't qualify.
"We find the reason why folks are not able to qualify for jobs is they simply don't have the skill," Jones said. "The answer is education."
In 2010, men with only high-school diplomas nationally made a median annual income of $40,060, and women made $29,860, according to the National Center for Education Statistics. Men with bachelor's degrees had a median earning of $63,740, and women with degrees earned $47,440.
In St. Mary's County, even an undergraduate degree may not be enough. "Today, the bachelor's degree is what the high school degree used to be," said Mel Powell, executive director of the Southern Maryland Higher Education Center, which offers mainly graduate education and high-tech training programs. "More and more employers are looking for higher levels of skill."
The center was established with funding from the state, Southern Maryland counties and universities around the country in the mid-1990s in direct response to employers' needs for an even more educated and skilled workforce, Powell said.
Many county employers pay for their workers to take classes at the center, which partners with 14 universities, 10 of which are in Maryland. Before the center, employees would have to commute 200 miles round-trip to universities as far as Towson.
Yet the center, like the defense industry job market, is out of reach for most of St. Mary's residents, who have neither a bachelor's degree nor employers willing to pay for their education.
St. Mary's College of Maryland doesn't fill the need either. Most students at St. Mary's College are full-time and enter immediately after high school. The college looks for students with high SAT scores and heavy involvement in extracurricular activities. The cost was nearly $24,000 for in-state students last school year. The college estimates another $3,500 is spent on books and other expenses.
The region's community college, the College of Southern Maryland, provides two-year training programs for higher-skilled jobs that are cheaper and take less time to complete.
The school tries to cater to what the major employers are looking for and "gear up those programs because most students are local and want to stay in the area. They want to get a job here," said Brad Gottfried, president of the College of Southern Maryland. "We're working closely with local employers more than we have before."
For example, the college is developing a program with a local nuclear power plant to train nuclear energy technicians, he said. It's also "working directly with Patuxent River" by growing its engineering programs.
But studying here still costs money. An associate's degree in engineering technology at the College of Southern Maryland costs $7,900, not including books or other expenses. Residents are in a position where they have to spend money to make money.
The college's enrollment last school year was 12,035, up about 8 percent from the 2008 school year. Almost every student is local, Gottfried said.
Nearly 40 percent of enrolled students applied for financial aid last academic year, according to College of Southern Maryland records. In 2008, about a quarter of students applied.
The average student is about 26 or 27 years old and takes evening classes while working.
More people are going back to school so "they're able to compete in the job market," Jones said, a trend seen nationwide.
Alexandra Daniello contributed to this article.