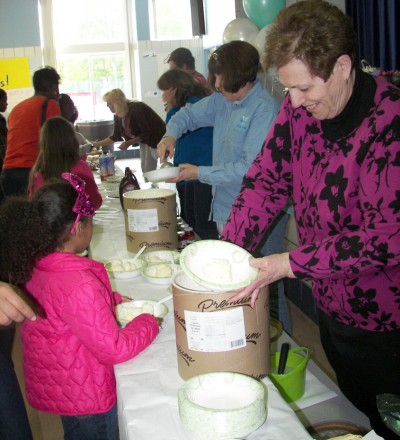 William B. Wade Elementary School Principal Virginia McGraw, right, assists members of the Wade Parent-Teacher-Organization (PTO) in serving ice cream during a book swap/ice cream social held last month to promote reading.
WALDORF, Md.—Hundreds of books lined the hallways of William B. Wade Elementary School on April 27 as part of a schoolwide book swap and ice cream social held for parents and students. The event was held to promote literacy and family involvement in the school community.
More than 300 community members attended the event, which featured a book swap in which participants could trade in a gently used book for a new item. Students created bookmarks to sell and proceeds were collected to help purchase new books for the Wade library. The event also allowed for student involvement in creating, buying and selling bookmarks which provided hands-on learning experiences with the exchange of money and economical concepts.
Other activities at the event included an ice cream social where participants were able to interact with one another while participating in a raffle for door prizes, sessions on reading strategies and digital resources, the General Educational Development (GED) and English for Speakers of Other Languages (ESOL) programs. Members of the Charles County Public Libraries were also at the event and provided guests with materials to sign up for a library card and information on the new library in the Waldorf community.
The event was coordinated by Mary Beth Long, a third-grade teacher at Wade who was assisted by the book swap committee, staff, the Wade Parent-Teacher-Organization (PTO), Principal Virginia McGraw and Vice Principal Nancy Seifert.
Source: Charles County Public Schools