St. Mary's County Corporal Appointed President of Md. D.A.R.E. Officer's Association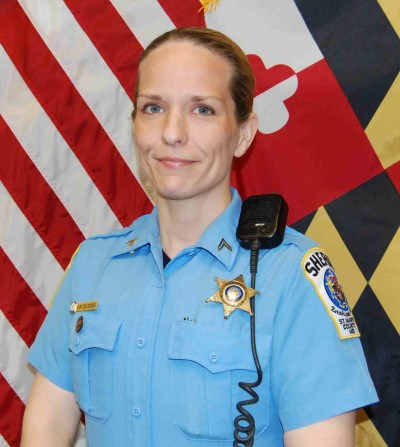 St. Mary's County Corporal Angela Delozier.
On April 3, St. Mary's County Corporal Angela Delozier was appointed President of the Maryland DARE Officers Association (MDOA) and will serve a two year term.
The MDOA is a non-commercial, non-sectarian, and non-partisan organization which is dedicated to providing the children of Maryland a safe and healthy future. MDOA is funded through membership dues and annual fundraising events. Each year the membership selects a charity which aids children in need, or benefits an individual disadvantaged child. The MDOA members then volunteer their time and resources to raise funds for that charity or child selected for that calendar year.
Corporal Delozier began her employment with the St. Mary's County Sheriff's Office in 2004. She has been a DARE Officer and mentor to St. Mary's County youth since 2007. Corporal Delozier is currently assigned to the Special Operations Division and is the School Resource and DARE Officer for Leonardtown and Margaret Brent Middle Schools. In addition, Corporal Delozier is the facilitator for CAMP DARE, a free summer camp offered to 5th and 6th graders, provided through a partnership of the St. Mary's County Sheriff's Office, Board of Education and St. Mary's Optimist Club.
"We are very proud of Corporal Delozier's enthusiasm and dedication to the children of our county," said Captain Edward Willenborg, Commander of Special Operations. "Her creativity and cooperation with educators has been instrumental in improving and expanding the D.A.R.E. curriculum, not only in St. Mary's County but throughout the State."
Pamela McKay Graduates Leadership Southern Maryland Training Program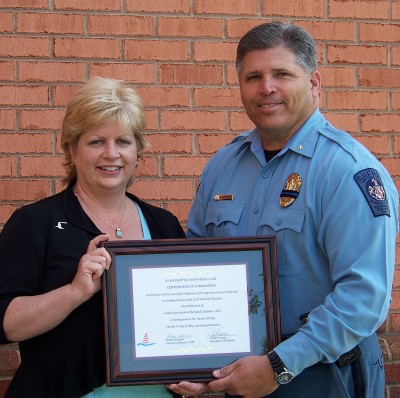 Accreditation Manager Pamela McKay.
Accreditation Manager Pamela McKay graduated from the Leadership Southern Maryland (LSM) Training Program on May 4. LSM is a nine-month, tuition-based program to develop leaders from the Southern Maryland area for regional collaboration.
LSM is a partnership with Maryland Leadership Workshops, St. Mary's College of Maryland, SMECO, The Patuxent Partnership, SOMDCAN, College of Southern Maryland and generous individual donors. "The students are a diverse group of individuals who represent the demographics of the region, and selected for attendance based upon factors including, but not limited to geographic location, profession, ethnicity, age and gender. Participants are mid-management professionals who have a "demonstrated aptitude and ability to become senior-level leaders, as well as senior-level leaders new to the area, exemplifying a sincere concern and commitment to help shape the future of Southern Maryland". (LSM Website, 2012).
Pamela McKay has 30 years of law enforcement experience, first as an officer with Prince George's County Police Department, and currently as a civilian manager with the St. Mary's County Sheriff's Office. As Accreditation Manager, she led the St. Mary's County Sheriff's Office towards achieving an award of reaccreditation through CALEA in 2010, and is serving her 2nd term as president of CRLEAA (Chesapeake Region Law Enforcement Accreditation Alliance) representing agencies throughout Maryland, Delaware and D.C. Recently, Pamela was chosen by the Commission on Law Enforcement Accreditation (CALEA) to become certified as an Accreditation Assessor.
"Pamela McKay is a valued member of our agency," said Timothy K. Cameron, Sheriff. "Her dedication and professionalism is a testament to her character and her continued commitment to public safety. We congratulate Pam on her achievement and look forward to incorporating the knowledge and skills she has gained into our goal of building safe communities."
Lt. Theodore Belleavoine Graduates Northwestern University's School of Police Staff and Command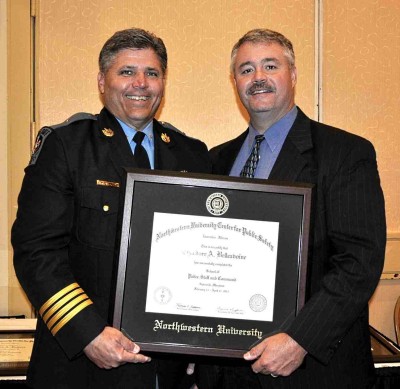 Administrative Patrol Lieutenant Theodore Belleavoine (right) pictured with Sheriff Cameron.
On Friday, April 27, Administrative Patrol Lieutenant Theodore Belleavoine graduated from Northwestern University's School of Police Staff and Command. The School of Police Staff and Command, a dynamic and intensive ten-week program, is considered one of the premiere law enforcement management training programs in the nation.
Successful completion of the course provides approximately twenty-one semester credit hours under the Northwestern University School of Continuing Studies. These credits may be transferable or applicable to degree programs at other colleges and universities.
Sheriff Timothy K. Cameron and the membership of the Sheriff' Office would like to extend sincere congratulations to Lt. Theodore Belleavoine on his graduation from Northwestern Police Staff and Command School last week," said Captain Steven Hall, Commander of Patrol. "Northwestern is nationally recognized as a premiere leadership program and reputed for its rigorous academic curriculum. Successful completion of this program is a testament to Lt Belleavoine's dedication and focus over the last ten weeks. The true value of the program is that the knowledge and experience gained will be shared by Lt Belleavoine benefitting the entire Sheriff's Office and is in keeping with Sheriff Cameron's commitment to leadership development and continued education of Sheriff's Office employees."
Traffic Safety Operation
In February of 2012, the St. Mary's County Sheriff's Office received numerous traffic complaints regarding motorist traveling on Maryland Route 5 in the area of Bay Ridge Road in Great Mills. Citizen's reported that motorists traveling northbound on Route 5 approaching Bay Ridge Road were using the right shoulder and turn lane at the intersection of Bay Ridge Road to pass vehicles waiting in traffic during evening rush hour.
On February 27, the St. Mary's County Sheriff's Office Traffic Safety Unit issued a public service announcement press release reminding motorist that it is a violation of Maryland Traffic Law, specifically, Transportation Article 21 304 c, to: "Driving motor vehicle off roadway while passing vehicle." The violation carries a fine of $110 and one point.
On February 28, the Sheriff's Office conducted traffic enforcement at the intersection in an attempt to educate motorist of this traffic violation. As a result of that enforcement, 107 verbal warnings and 56 written warnings were issued.
Since February, the Special Operations Traffic Safety Unit has conducted a traffic survey of the roadway, intersection and traffic flow during rush hour. As a result of our internal survey, the Sheriff's Office contacted the Maryland State Highway Administration and requested that they too conduct a traffic study at the intersection. State Highway has agreed to evaluate the situation to determine if road improvement can be implemented to address the situation. Such traffic studies can take up to three months to complete.
On May 1, the Sheriff's Office Traffic Safety Unit conducted another Community Traffic Enforcement effort in the area of Bay Ridge Drive and Maryland Route 5. As a result of the enforcement effort, 74 traffic citations and 6 warnings were issued.
The Sheriff's Office will continue to educate motorists and conduct directed enforcement measures in an effort to enforce Maryland traffic law and alleviate the traffic safety problem.