American Legion Supports CCSO DARE Program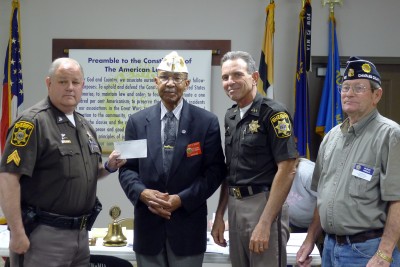 Pictured from left to right are Sgt. Carl Rye, Robert Johnson, Sheriff Rex Coffey and Buddy Hindle.
The American Legion Post 82 in La Plata presented Charles County Sheriff Rex Coffey and Sgt. Carl Rye, a supervisor the in School Resources Unit, with a check to help fund the Sheriff's Office's DARE program.
"I am very grateful to the American Legion for being so supportive of our DARE program over the years," said Sheriff Coffey. "Their donation will help us teach students about the dangers of drugs and alcohol and about the importance of making good choices."
Each year, the American Legion's Department of Maryland Child Welfare Foundation (CWF) approves a grant to help fund the Sheriff's Office's DARE program. Mr. Robert M. Johnson, a member of the CWF, and Mr. Buddy Hindle, commander of the Charles County American Legion post, presented the donation to Sheriff Coffey and Sgt. Rye.
Lieutenant Marvin Butler Graduates FBI Academy Program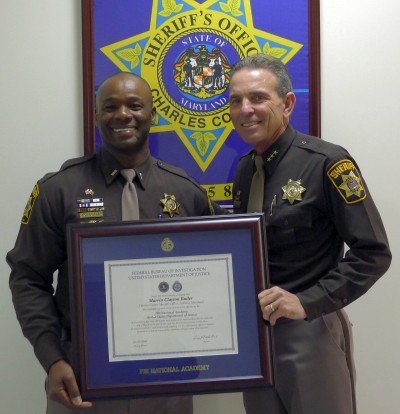 Lieutenant Marvin Butler (left) and Sheriff Rex W. Coffey.
Lieutenant Marvin Butler has graduated from the 248th session of the FBI National Academy Program (FBINA) at Quantico, Virginia. Lt. Butler was one of 257 law enforcement officers selected from a world-wide list of applicants to attend this prestigious training.
The FBINA is a professional course of study for U.S. and international law enforcement leaders that serves to improve the administration of justice in police departments and agencies - at home and abroad - and to raise law enforcement standards, knowledge, and cooperation world-wide.
Internationally known for its academic excellence, the National Academy Program offers 10 weeks of advanced investigative, management and fitness training for selected officers having proven records as professionals within their agencies.
The men and women of session 248 represented leaders and managers from 28 countries, 48 states, the District of Columbia, three military organizations and five federal civilian organizations.
Lt. Butler is also a 2010 graduate of Northwestern University's School of Police Staff and Command - a program of upper-level college courses focused on police management and management theory, organizational behavior, human resources for law enforcement, budgeting, staffing allocation and personnel deployment.
"We are all extremely proud of Lt. Butler's accomplishments. This training is tough both academically and physically and Lt. Butler represented our Agency well. Now he can apply what he learned to benefit the Sheriff's Office and our community," said Sheriff Coffey.
Butler, a highly-decorated 24-year veteran of the CCSO, joined the Agency in 1988, serving in Patrol Operations. In 1998, while serving on the SWAT Team, he received a Gold Medal of Valor - the Agency's highest award - for his quick, decisive action in disarming an assailant who was threatening the life of a fellow officer. He was also named the Maryland Sheriff's Association's "Deputy of the Year" for valor, outstanding achievement, and accomplishment.
In 1999, Butler was promoted to the rank of sergeant and served as a supervisor in various divisions including Patrol Operations; the Warrant/Fugitive and Domestic Violence Unit; and the Pre-Employment/Background Investigations Unit. He was promoted to Lieutenant in 2008 and worked in Patrol Operations. Shortly thereafter, he was named commander of the District III, Waldorf Station. Currently, Lt. Butler is a Standards Commander in the Office of Professional Responsibility, Internal Affairs Unit.
Lt. Butler is one of four current CCSO commanders to have graduated from the FBINA and he is the first commander to have attended and graduated from both the FBINA and the Northwestern University of Police School and Command. "I am grateful Sheriff Coffey nominated me to attend these prestigious programs and I'm honored to have been selected from the large pool of applicants," said Butler. "Both the FBINA and Northwestern University's program provided me excellent courses and superior training which I will incorporate in my duties as a commander."
Pizza Hotline Raises Money for Teen Court
Pizza Hotline in La Plata donated $142.37 to the Charles County Sheriff's Office's Teen Court program after hosting a Dine to Donate fundraising campaign May 2.
"Pizza Hotline has demonstrated its support of Teen Court on many occasions and I couldn't be more grateful," said Sheriff Rex Coffey. "I am thankful they see the value in a program that offers teens who have lost their way a chance to right themselves, and teens who want to participate in community service a chance to volunteer to help their peers."
Pizza Hotline has hosted three fundraisers for Teen Court so far this year, resulting in donations of $151 in March and $161 in April. The restaurant plans to host another Dine to Donate event in the fall.
CCSO Traffic Safety Unit to Participate in State-Wide "Click It or Ticket" Initiative
Focus is on Seat Belt and Child Passenger Safety Laws
Charles County Sheriff Rex W. Coffey said the CCSO will be participating in the Maryland Motor Vehicle Administration's Highway Safety Office state-wide "Click it or Ticket" initiative which began in May and will continue for the next several weeks. "Our Traffic Safety Unit is dedicated to safety and we will be enforcing Maryland's adult seat belt laws and child passenger safety laws," said Sheriff Coffey.