Hensley leads Co-anglers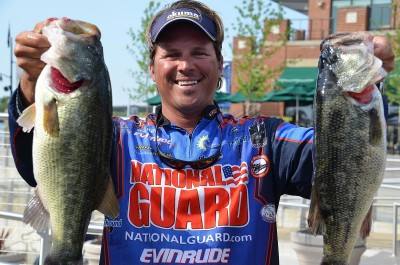 Scott Martin leads in the Wal-Mart FLW bass fishing tournament currently underway on the Potomac River. (Submitted photo)
NATIONAL HARBOR, Md. (May 17, 2012)—The Potomac River, described by several of the world's best bass anglers in the country as one of the top-10 fisheries in the country, really showed her true colors Thursday as 123 of the 144 pro anglers in the Walmart FLW Tour on the Potomac River presented by the National Guard caught a five-bass limit on day one of the event.
Leading the pack was National Guard pro Scott Martin of Clewiston, Fla., who crossed the stage with a five-bass limit weighing 22 pounds, 10 ounces. Martin now holds a comfortable 4 pound, 6 ounce lead over Snickers pro Chris Baumgardner of Gastonia, N.C., and fellow National Guard pro Mark Rose of West Memphis, Ark., who each caught five bass weighing 18-4. The tournament features a field of anglers from all across the United States, Canada, Spain and Japan.
"I ran about 40 miles total and hit about 15 spots," said Martin, who is the 2011 Forrest Wood Cup Champion. "I was fishing some areas that had as many as 20 boats in there. The thing that made the difference for me today was that I was paying attention to the pressure that certain grass beds were getting. I would wait for the beds that I could see weren't getting a lot of pressure to open up and was usually able to get a good bite out of them; that's how I got one of my 6-pounders.
"Catching the first 6-pounder on one of my first casts this morning really set the pace for me today," Martin continued. "I thought I had caught a catfish."
Martin indicated that the tide wasn't a do-or-die for his fishing on the Potomac. He said that he really wasn't doing anything special — just casting and flipping. It was his attention to detail that paid off for him today. He keyed in on less-pressured flats with grass and said every cast was made with a purpose.
Martin said he used Bruiser Baits and was flipping creature-type baits and figured out what color and bait action really attracted the bass.
"It's always a good feeling to have a comfortable lead," Martin went on to say. "I had a decent practice but didn't expect to catch 22-10 today. I'll go out tomorrow and try the same thing. Cover a lot of water and manage the tide as best I can and hopefully I can smack 'em again."
Both Baumgarder and Rose said they were fishing in high-traffic areas as well. According to Rose, 90 percent of the bass in the Potomac are in a small area and anglers just need to key in on specific spots in those areas and hope for the best. While Baumgarder was using chatterbaits and Zoom Speed worms, Rose said that he stuck to Strike King's KVD 1.5 crankbaits.
Rounding out the top 10 pros after day one on the Potomac River are:
4th: Kenneth (Boo) Williams, Hazard, Ky., five bass, 18-1
4th: Gary Yamamoto, Palestine, Texas, five bass, 18-1
6th: Colby Schrumpf, Highland, Ill., five bass, 17-13
7th: Hawaiian Punch pro Jim Dillard, West Monroe, La., five bass, 17-12
7th: Ishama Monroe, Hughson, Calif., five bass, 17-12
9th: Kellogg's Frosted Flakes pro Dave Lefebre, Erie, Pa., five bass, 17-11
9th: Kellogg's Rice Krispie Treats pro Jim Tutt, Longview, Texas, five bass, 17-11
M&M's pro Jim Moynagh of Carver, Minn., caught Thursday's big bass weighing 6-3 on the pro side to win $500.
Overall there were 685 bass weighing 1,884 pounds, 10 ounces caught by 144 pros Thursday. The catch included 123 five-bass limits.
Pros are competing for a top award of up to $125,000 this week plus valuable points in the hope of qualifying for the 2012 Forrest Wood Cup presented by Walmart, the world championship of bass fishing. The top 35 anglers in the point standings from the six Walmart FLW Tour Major tournaments will qualify.
Nick Hensley of Cumming, Ga., leads the Co-angler Division with five bass weighing 19-5 followed by Shannon Schiner of Pompano Beach, Fla., in second place with five bass weighing 16-13.
Rounding out the top 10 co-anglers are:
3rd: Eddie Laster, Morton, Miss., five bass, 16-4
4th: Ronnie Baker, Providence Forge, Va., five bass, 15-12
5th: Marvin Reese, Gwynn Oak, Md., five bass, 15-11
6th: Darrell Stevens, Roseland, Va., five bass, 15-8
7th: Bradley Staley, Pleasant Garden, N.C., five bass, 15-5
8th: Greg Knick, Ansonia, Ohio, five bass, 14-15
8th: Leo Reiter, Greenup, Ill., five bass, 14-15
10th: Chad Billiot, Raceland, La., five bass, 14-13
Darrell Stevens caught Thursday's big bass with a fish weighing 6-4 in the co-angler division to earn $250.
Overall there were 498 bass weighing 1,245 pounds, 15 ounces caught by 140 co-anglers Thursday. The catch included 57 five-bass limits.
Co-anglers are fishing for a top award of $25,000 this week plus valuable points that could help them qualify for the 2012 Forrest Wood Cup. The 35 co-anglers in the point standings from the six Walmart FLW Tour Major tournaments will qualify.
Anglers will take off from National Harbor Marina located at 168 National Harbor Plaza in National Harbor at 6:30 a.m. each morning. Friday's weigh-in will be held at National Harbor Marina beginning at 2:30 p.m. Saturday and Sunday's final weigh-ins will be held at National Harbor Marina beginning at 4 p.m.
Fans will be treated to the FLW Expo at National Harbor Marina on Saturday and Sunday from noon-4 p.m. prior to the final weigh-ins. The Expo includes Ranger boat simulators, the opportunity to interact with professional anglers, enjoy interactive games, activities and giveaways provided by sponsors, and fans can learn more about the sport of fishing and other outdoor activities. All activities are free and open to the public. On Sunday one lucky fishing fan will win a $500 Walmart gift card. The gift card giveaway is free to enter but the winner must be present at the conclusion of Sunday's final weigh-in to win.
As part of the FLW Tour's community outreach initiative, FLW will be working in conjunction with Living Classrooms of the National Capital Region, Pepco and the U.S. Fish & Wildlife Service to host the fifth annual Nation's River Bass Tournament, which will feature more than 300 local students. The tournament provides underserved youth with a hands-on fishing and boating experience to increase their exposure to and appreciation for our nation's natural resources. The tournament and associated activities will be Friday from 7 a.m.-1 p.m. at the piers at National Harbor. The Nation's River Bass Tournament weigh-in will be held on the FLW Tour stage at 11 a.m.
Coverage of the Potomac River tournament will be broadcast in high-definition (HD) on NBC Sports Network when "FLW" airs June 24 from 1-2 p.m. ET. "FLW" is hosted by Jason Harper and is broadcast to more than 559 million households worldwide; making it the most widely distributed weekly outdoors-sports television show in the world.
For complete details and updated information visit
http://FLWOutdoors.com
. For regular updates, photos, tournament news and more, visit
http://Facebook.com/FLWFishing
and on Twitter at
http://Twitter.com/FLWFishing.