County D.A.R.E. Clothing Bins are Making a Big Impact on the Environment
During the past year, many residents have placed recycled goods such as clothing, shoes, stuffed animals, bedclothes and cloth remnants into the M-A-C Recycling Bins that are placed at each customer convenience center as well as the landfill. Each week the materials are collected and weighed. The donations not only help the environment, but also assist the County's D.A.R.E. program.
The old clothing and fabrics resulted in a total of 254.98 tons of materials collected to be recycled. This means that the County saved $16,643.00 in trash disposal fees, according to Mr. William Teter, Calvert County Recycling Coordinator. It also means that the local D.A.R.E. Program will receive approximately $1800.00 for the year from D.A.R.E. America. The local D.A.R.E. Program receives $100.00 per bin each year.
Please continue to use these bins. As you can see, they not only benefit the local D.A.R.E. Program, but they also save the County money. If you would like to have a bin placed at your business please contact Sgt. Bomgardner at bomgarmp@co.cal.md.us.
Open House, Donation to CAASA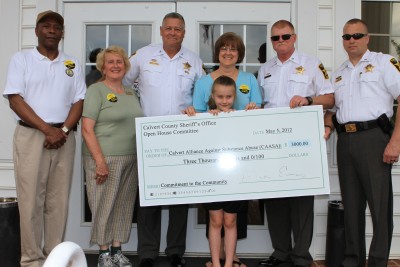 From left to right are: Mr. Bill Smith (CAASA), Ms. Linda Bowman (CAASA), Mrs. Candice D'Agostino (CAASA), Ms. Alaina D'Agostino, Sheriff Mike Evans, Lieutenant Colonel Thomas Hejl, and Lieutenant Dave McDowell.
On May 5, Sheriff Mike Evans and the men and women of the Calvert County Sheriff's Office hosted another successful Open House. One of the highlights of the day was a presentation to the Calvert Alliance Against Substance Abuse (CAASA). Thanks to generous donations made by numerous corporate sponsors, Sheriff Evans presented a check for $3,000 to CAASA on the front steps of the Sheriff's Office.
"CAASA is a valuable partner. Their continuous efforts and support help us do our job more effectively. I wish I could give them more," said Sheriff Evans.
Donation of $500 from Crooked I Gaming Center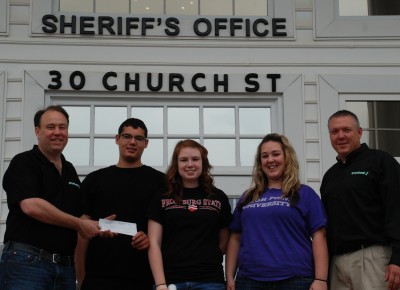 Pictured left to right are Ryan Hill of Crooked I Gaming Center, Andrew Dantos, student at Huntingtown High School, Kayla Laporte, student at Patuxent H.S., Amber McDonald student at Patuxent H.S., and Chris Chubb of Crooked I Gaming Center.
The Calvert County Sheriff's Office thanked Crooked I Gaming Center of Chesapeake Beach for their recent donation of $500 to the students of the Calvert Career and Technology Academy to assist them in attending the Skills USA competition conference in Kansas City. The students are this year's Maryland State winning State Team.
Skills USA is a national nonprofit organization serving teachers and high school and college students who are preparing for careers in trade, technical and skilled service occupations. It was formerly known as VICA (Vocational Industrial Clubs of America).
The Crime Scene Investigation competition is a component of the Calvert County Public Schools' Criminal Justice program. The students learn the proper procedures for processing mock crime scenes at their individual high schools throughout the school year. They are taught such skills as measuring, photographing, sketching, and processing crime scenes.
Their skills are then displayed and judged at a tri-county competition between Calvert, Charles and St. Mary's counties. The three top teams from the tri-county competition move on to a Maryland State competition where they compete against the top schools from across the State of Maryland. The single winner from the Maryland State competition will advance to a National competition in Kansas City, where they will compete against the top teams from across the United States.
If there are any other organizations or individuals who like to contribute to this cause, they can make checks payable to the Calvert Career and Technology Academy. Checks can be dropped off at the Calvert County Sheriff's Office to the attention of Sgt. Ronald Naughton or they can be taken directly to the Calvert Career and Technology Center, 330 Dorsey Road in Prince Frederick.