By Kyle Jones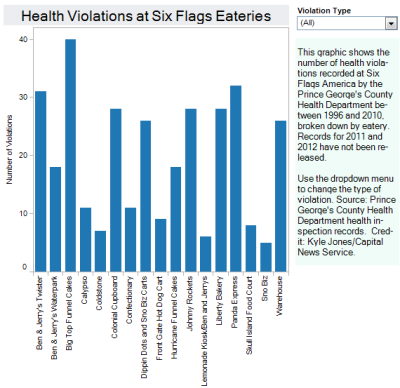 Health violation at Six Flags America in P.G. County from 1996-2010 broken down by eatery.
Click here
for a full size interactive version of this chart.
BOWIE, Md. (May 16, 2012)—Guests at Six Flags America taking a break from the roller coasters could get more than they bargained for at the park's concession stands.
A Capital News Service analysis of Prince George's County health inspection reports uncovered hundreds of health violations at Six Flags over the last 16 years.
Between 1996 and 2010, park food stands were cited 761 times for storing food on the floor, improper hand washing by employees, failing to deal with insect infestations and other violations that could help spread pathogens that cause food poisoning.
"We're looking to protect the food," said Susan Thweatt, chief of the Food Protection Program at the Prince George's Health Department. "If we feel there may be a public health issue, that's our bottom line."
When cited for health violations, records show Six Flags America often responds within several days to fix the problems.
"Our safe food handling procedures meet and exceed industry standards, resulting in an excellent safety and inspection record," said Linda Jensen, a Six Flags America spokesperson. "We do everything possible to provide a safe, enjoyable environment for our guests and team members."
But Six Flags hasn't always responded quickly to fix problems that could harm visitors, the CNS analysis found.
Hand Washing
Health regulations require employees handling food to wash their hands and forearms with soap and warm water for 20 seconds. They are supposed to dry off thoroughly with paper towels or an electric hand dryer.
But that doesn't always happen, records show. At Colonial Cupboard, inspectors have documented 11 hand-washing violations since 2000. Colonial Cupboard, along with several other food stands, often had empty soap dispensers and lacked paper towels, records show.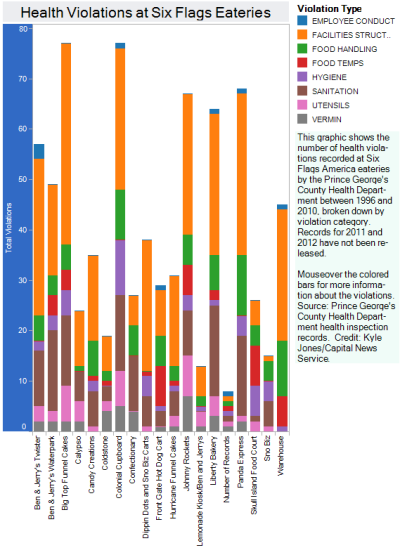 Health violation at Six Flags America in P.G. County from 1996-2010 broken down by type of violation.
Click here
for a full size interactive version of this chart.
At Skull Island Food Court in 2010, employees had access to soap, water and paper towels. Records showed they simply weren't washing their hands.
A Skull Island inspection report for June 2010 reminded employees that, "All food handlers must utilize proper hand washing techniques." But two days later, inspectors returned and found the same problem.
Improper hand washing was also observed at Backstage Cafe, including the failure to wash hands when switching to a new task.
Food Storage
Other food stands at Six Flags were repeatedly cited for improperly storing food in violation of county health standards.
At the park, Panda Express, Candy Creations, Confectionery and Liberty Bakery were marked off for storing food on the floor or on unapproved, hard-to-clean shelving units like milk crates.
State Department of Health and Mental Hygiene regulations require food be stored on "easily cleanable shelves at least six inches off the ground."
Food stands at the park were cited 23 times for storing ice scoops improperly, so that the handles touched ice served to customers. Some stands stored bottled drinks in ice served to customers, in violation of a state regulation requiring ice to be "handled, transported, and stored in a manner that precludes contamination."
At several facilities, appliances were in poor condition in violation of county and state health codes. At one Ben and Jerry's ice cream stand, inspectors found packaging tape used to seal a grease-catching device.
Food venues in the state are required to store products in a cool, well-ventilated and well-lit area that is protected from the elements. Several facilities throughout the park were cited for burned out lights and missing ceiling tiles.
Bugs
Inspection records show that the largest recurring problem at the park over the last decade was flies. The park has been cited 36 times since 2002 for failing to deal with the fly problem at dining facilities.
"That doesn't surprise me," said Lindsay Marcus, of New Jersey, who has visited the park. "It's just so hard keeping everything clean there with people coming in and out."
The health department requires food service facilities take steps to reduce the number of flies, because the insects help spread foodborne pathogens.
These steps include keeping building doors closed, using air curtains designed to blow flies away from entrances and keeping trash cans and dumpsters closed.
Jensen said the park hires extra staff to deal with the fly problem. They use mobile washing stations, sanitize the facilities at night to keep pests from staying in certain areas and use "fly lights" at every facility.
"At Six Flags America, we employ aggressive clean-up measures," Jensen said. "Venues that entertain thousands of guests on a daily basis must continually monitor and clean throughout the day as sugary, sticky food and drink spills are inevitable."
Records show that at least two food stands have had a hard time getting rid of a fly infestation over the last decade.
In August 2006, inspectors visited the Creamery (now called Coldstone) and found a fly infestation had not been dealt with despite prior orders by the health department to fix the problem.
Inspectors ordered staff to keep the door closed when not in use and to provide proper fly control devices inside the facility.
When inspectors returned a week later, the flies remained and inspectors found that the staff had not installed any fly control devices.
At Johnny Rockets in June 2010, inspectors ordered a professional extermination of the facility after they noticed a fly problem during two routine inspections.
"A significant number of flies were detected in the dining section of the facility," an inspector wrote, adding that air curtains used at entry doors did not, "appear to be adequate if doors are propped open." The restaurant has been issued seven fly violations since 2002.
"When there is a complaint or enough (flies) for there to be a nuisance, we'll order a professional service," Thweatt said.
Mike Raupp, a professor of entomology at the University of Maryland, said a few flies landing on food in dumpsters, kitchen prep areas and on customers' meals can lead to severe health problems.
"These other food sources are places where bacteria breed, like salmonella and the one that causes dysentery," Raupp said. "It becomes a numbers game. The greater number of flies that visit your dinner plate, the greater the probability that you could pick up a nasty disease."
Despite all of the infractions, park guests like Pamela Winter said they were undeterred by the findings.
"It's just inevitable and you'll just have to accept that it's going to be pretty unsanitary or not when you buy food," said Winter, of Columbia. "When you're in an outdoor place, that's just what's going to happen."