By Mike Welding, NSWC Indian Head Division Public Affairs, and John Joyce, NSWC Dahlgren Division Public Affairs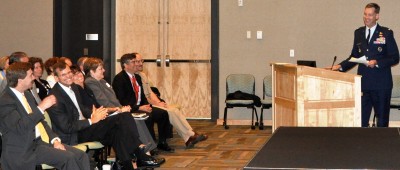 Lt. Col. James Bachinsky, Joint Staff Comptroller Acquisition Management Branch Chief, briefs more than 250 executives representing over 100 companies at the 20th Naval Surface Warfare Center Dahlgren Division (NSWCDD) "Small Business Opportunities Fair and Conference" held at the University of Mary Washington (UMW) Dahlgren campus May 8.
DAHLGREN, Va.—A capacity crowd of small business executives discovered a myriad of partnering and prospective contracting opportunities at the first joint "Small Business Opportunities Fair and Conference" featuring two Naval Surface Warfare Center (NSWC) Divisions at the University of Mary Washington (UMW) Dahlgren campus May 8.
Top NSWC Indian Head Division and NSWC Dahlgren Division leaders representing command, technical, small business and contracts offices shared their knowledge and expertise with businessmen and women interested in becoming a partner or expanding their current partnership with NSWC.
"With the increased emphasis on competition in the current business environment, keeping an eye on small businesses and small business participation is critical," said Kris Parker, NSWCDD Deputy for Small Business. "Events such as this, help us (NSWCDD & NSWCIHD) determine who's out there from a partnering standpoint, and help small businesses determine what efforts are coming up and where they should apply their limited resources."
What's more, the Navy's current and potential small business partners learned precisely how they could align with the capabilities of the two warfare center divisions.
"I am extremely encouraged and optimistic about the future," said Earnest King, Chief Marketing Officer, II Corps Consultants, Inc. "Perhaps the most beneficial aspect of the conference was the open lines of communication and willingness of the small business advocates at both NSWC Dahlgren Division and NSWC Indian Head Division to assist small businesses with insight and forecasted opportunities to evaluate."
King was among approximately 250 executives representing more than 100 companies who enjoyed a series of "firsts" at the event, including:
-- A combined overview of both the NSWC Dahlgren Division and NSWC Indian Head Division Warfare Centers (NSWCIHD).
-- In-depth technical and business overviews presented by command staff from both NSWC Divisions.
-- A new UMW Dahlgren Campus location to allow for easier access and greater participation.
The businessmen and women also networked with professionals from other small businesses, large businesses and academia - furthering their opportunities for teaming and partnerships.
They listened to NSWCIHD Commander Capt. Andrew Buduo and NSWCIHD Technical Director Dennis McLaughlin as well as NSWCDD Commander Capt. Michael Smith and NSWCDD Technical Director Carl Siel present command technical and business overviews geared to helping small and large business executives and entrepreneurs guide their business decisions.
"The warfare centers complement one another," said Smith, pointing out that every Navy warfare center division has its own niche and collaborates closely. "For instance, Dahlgren Division tests products developed at Indian Head."
The event promoted service contract opportunities for small businesses with the Pentagon-based Joint Chiefs of Staff, the Maryland-based NSWC Indian Head Division and Naval Explosive Ordnance Disposal Technology Division as well as NSWC Dahlgren Division, headquartered in Virginia.
"Indian Head is a good place to do business," Buduo said. "Our work is projected to grow over the next several years."
It may seem counterintuitive during a time of declining defense budgets to expect growth, but it has a lot to do with Indian Head Division's mission beyond service contracts, explained McLaughlin.
"Developing energetics weapons systems is a very unique business," he added. "For instance, we are the only site that conducts substantive work in all phases of weapon energetics."
Chiefs of Contracts from NSWCDD and NSWCIHD - Pat Canciglia and Penny Kennedy respectively - provided procurement forecasts and explained how they handle changes in the procurement environment while focusing on small business.
"We are looking at our initiatives to improve our small business contracting," Kennedy said. "This is one reason we are doing things like industry days, to reach out to small businesses and educate them about what we do."
Both warfare centers partner with industry to bring innovative solutions and performance improvements to the warfighter at a reduced cost.
"NSWC Dahlgren is recognized for its leadership in systems integration," said Siel. "We rely on you to augment that leadership. The complex systems we develop and support require quick and ready access to new technology and unique skills in order to meet the needs of our warfighters. Sometimes the response time can be very short. Readiness is everything."
The capabilities of small businesses to provide rapid and cost-effective technological solutions are considered an invaluable resource by the event's leaders faced with challenges associated with reducing total ownership costs across the Navy.
"Without question, budget constraints are having an impact," said Smith. "But we continue to deliver critical technology and products and are recognized for our leadership in surface warfare and systems engineering."
NSWC Indian Head is planning to have another industry outreach day in January, 2013, one that will focus on the command's 144 technical areas. "We expect an uptick in work due to our unique technical capabilities," said McLaughlin. "Our manufacturing workload is already increasing and may offer an opportunity for contractor surge support."
The warfare centers' parent command, Naval Sea Systems Command (NAVSEA), has also embarked on a larger initiative to promote competition on contracts. According to NAVSEA's Head of Contracts, Jerry Punderson, NAVSEA contract work totaled $36 billion last year, with much of it going to single competitive bid contracts.
NAVSEA wants to reduce the number of single competitive bid contracts for several reasons, particularly to improve buying power.
"From a total ownership cost perspective, hosting the event at the University of Mary Washington allowed Dahlgren to realize a savings of approximately $15,000," said Parker.