College Awards 508 Candidates for Degrees, Certificates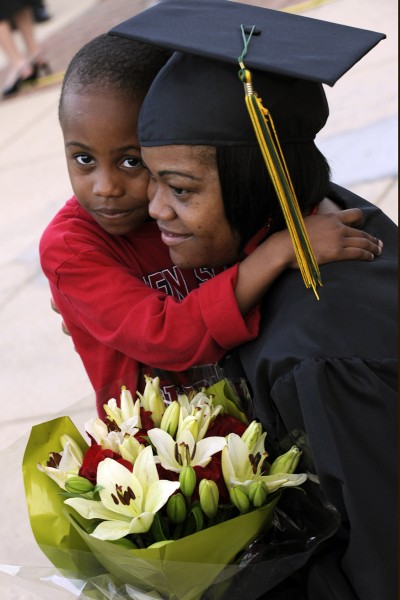 Nyema Taylor, of Waldorf, gets a congratulatory hug from her son, Shamir Taylor Jr., 5, following CSM's 53rd Spring Commencement May 10. (Photo: CSM)
LA PLATA, Md.—The College of Southern Maryland celebrated 508 candidates for degrees and certificates during its 53rd spring commencement ceremony held May 10 at the La Plata Campus.
"We come to celebrate the achievements of our 508 graduates," said CSM President Dr. Brad Gottfried. He spoke about the savviness of graduates who avoided huge student loan debt by attending CSM for their associate's degree before transferring for their bachelor's degree. "Those of you who are transferring, you'll have less than half the debt," said Gottfried, adding that CSM students have received an outstanding education from faculty and staff that care.
CSM awarded 531 associate degrees and 239 certificates: 41 percent of the students receiving awards were from Charles County, 34 percent from St. Mary's County and 22 percent from Calvert County with 3 percent from outside of the region.
Associate degrees were awarded predominantly in the fields of general studies, nursing, arts and sciences and business administration, while general studies: transfer, general studies accounting: advanced and basic were the most predominant certificates. Of the graduates, 70 percent are female. The ages of this spring's associate's degree candidates range from 15 to 58. The oldest certificate candidate for graduation is 64.
The youngest candidate for graduation is Joseph M. Wolski, 15, of Dunkirk, who earned an associate's degree in engineering. The most senior candidate for an associate's degree is Jean Campbell, 58, of St. Mary's City who received an associate's degree in nursing. The most senior certificate candidate for graduation is Diane Edmonds-Vitashoka, 64, of La Plata who received certificates in human services: mental health technician and human services: alcohol and drug counseling.
CSM's spring graduation produced the first graduates of the college's Nuclear Engineering Technology (NET) Program. A partnership between CSM and Constellation Energy Nuclear Group LLC (CENG), the NET program prepares students from Southern Maryland for jobs such as those at Calvert Cliffs Nuclear Power Plant where 50 percent of its workforce nears retirement age. Qualified program graduates received a certificate from the National Academy for Nuclear Training (NANT).
The National Anthem was performed by CSM student Annie Grove, of Mechanicsville.
The commencement ceremony's student speaker was Student Government Association President Tia Dickerson of Lusby.
The keynote speaker was Dr. Joseph Urgo, president of St. Mary's College of Maryland, who told students that he came to CSM's commencement to look at the future. He asked students to think, 'Who helped me?' "What teacher, what parent, what aunt, uncle or neighbor, or professor or professional counselor? On whose belief in you, do you come to us today-a graduate of the College of Southern Maryland for 2012," said Urgo, adding that the graduates should look for opportunities to help others.
An Honorary Degree was presented to Wilson Parran by CSM Board of Trustees Chair Mary Krug for his loyalty and friendship to the college. "Wilson has done everything," Krug said. "He has served as a member of the Board of Trustees at this college for two years until he ran for public office and was ultimately elected to the Calvert County Board of Commissioners for two terms, eight years, and was the chair of the board. During that time he was a staunch supporter of both the college and of Calvert County," said Krug.
The Faculty Excellence Award honoring adjunct faculty was presented to Leah A. Geiger by CSM Faculty Senate President and Economics Professor Michael Green. "Leah has been teaching at CSM for 14 years and over this time she has become a leader in online education," said Green. "Ms. Geiger believes that it is critical to make online students feel connected as if they were in a face-to-face situation."
Green also presented the Faculty Excellence in Teaching Award honoring permanent faculty to Business and Technology Professor Mary Beth Klinger. "To Dr. Klinger, teaching is an opportunity to empower and inspire students," said Green. "It is her goal to engage each student and to provide him or her with meaningful learning experiences that can be transferred into the real world."
During the nursing recognition ceremony held earlier in the day, Emily Doot McDivitt of Lexington Park was recognized with the Academic Achievement in Nursing Award, given to the graduate with the highest grade point average in the nursing class. Laura Gillingham of California was recognized with the Achievement in Nursing Award, presented to the graduate who demonstrates academic achievement, clinical competence, community service and leadership potential. This spring's nursing program graduated 53 students.
At the college's May 9 Honors Convocation, 27 students were recognized for achieving highest honors (3.9-4.0 GPA), 28 for high honors (3.75-3.89 GPA) and 58 for honors (3.5 to 3.74 GPA).
For complete coverage on CSM's commencement activities, including honors convocation, and nursing recognition, visit
http://www.csmd.edu/News/MediaResources/12MayGrad.html.