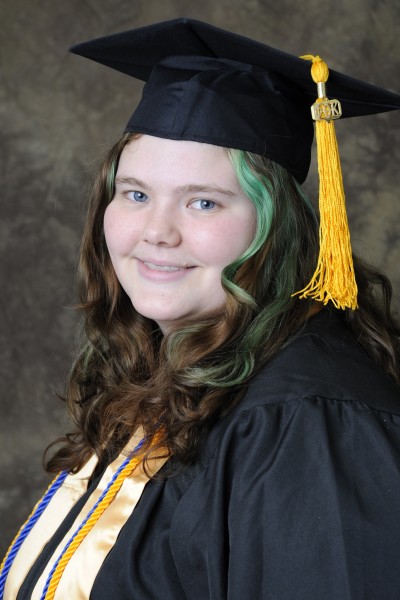 Jennifer Robertson, of Mechanicsville, graduated from CSM on May 10 with six associate's degrees.
LA PLATA, Md.—Jennifer Robertson, 20, of Mechanicsville gathered six associate's degrees when she crossed the stage at the College of Southern Maryland's 53rd Commencement last Thursday in La Plata.
A 2009 graduate of Chopticon High School, Robertson did not take any college courses while she was in high school and did not transfer any advanced placement (AP) credits to CSM, she said. All of her coursework was completed at CSM's La Plata, Leonardtown and Prince Frederick campuses, the Waldorf Center as well as online. "I couldn't afford a four-year college. CSM was a great price and it was close to home," said Robertson, adding that she has received a scholarship and a grant which helped her pay for tuition.
"At CSM I had some awesome professors. I knew I wanted to study music or history, but when I began taking classes I just fell in love with both," she said.
Robertson singled out History Professor Chretien Guidry and Music Professor Stephen Johnson as her two biggest champions. "They provided every reason for me to get into a four-year college and provided all the help anyone could need to succeed. They go the extra mile for students," Robertson said. "I earned a 4.0 GPA (grade point average) and was invited to join Phi Theta Kappa.
"For the first time in my life, I feel like everything is going my way," Robertson said of completing her degrees. During her first six months at CSM, Robertson went from class to the hospital to class and back to the hospital to be with her grandmother who was battling cancer. Her grandmother valued education and wanted Robertson to always do her best. Following her grandmother's death, Robertson continued her studies taking at least seven courses per semester while working as a color guard instructor at Great Mills High School. She has taken every opportunity at CSM to expand her musical range, studying classical as well as Broadway musicals. She performed in productions of "You're a Good Man, Charlie Brown," "Reunion" and "Pirates of Penzance" as well as dramatic roles in Cause Theatre productions.
Outside of school, Robertson earned Girl Scout's highest honor, the Gold Award, and has served as the president of the venture crew of a local Boy Scout troop. "For the past four or five years our crew has joined others in the Antietam National Battlefield Memorial Illumination in honor of soldiers who died during the Battle of Antietam," she said, adding that with her fiancé's marriage proposal to her on the Burnside Bridge, she will always have a personal history in a place of such national historical significance.
Robertson wants to be a high school or college professor and feels that having the ability to switch between disciplines will give her an advantage. "If I can't teach music, I can teach history and it still won't feel like work to me," she said. She is transferring to the University of Maryland College Park this fall.