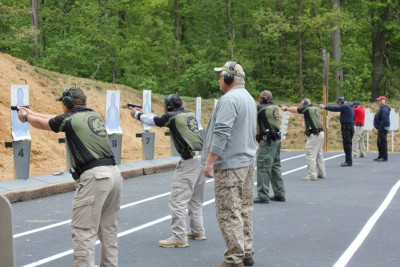 The CCSO pistol team (in green) won second-place in a match of regional law enforcement shooters. (Submitted photo)
LA PLATA, Md. (May 14, 2012)—The Charles County Sheriff's Office pistol team recently hosted a pistol match to benefit March of Dimes. The event, held at the CCSO pistol range, consisted of six teams representing the Charles County Sheriff's Office, Charles County Detention Center, U.S. Park Police, FBI, and Harford County Sheriff's Office. Nearly $1,000 was raised.
Match relays were held every hour during the day-long event. Each relay consisted of 100 rounds - 80 from a pistol and 20 from a rifle - shot at varying distances from a standing, kneeling, sitting or prone position. In some events, shooters had to complete a rigorous exercise course prior to shooting to simulate real life experiences. Shooters were scored as individuals and their scores were combined and averaged for team scores.
Taking first-place in the "Individual" category was Greg Jordan of the Harford County Sheriff's Office with a high score of 461 points. Chris Wood of the FBI came in second-place with 459 points and in third-place was Chris Lenhart of the FBI with 452 points.
The FBI pistol team took first-place in the "Team" category with a total of 1806 points. They were followed by the CCSO pistol team who took second-place with 1671 points and the U.S. Park Police pistol team came in third-place with 1567 points.
"This event is popular because it's a great way for officers to sharpen their skills and raise money for a good cause," said Captain Ray Aportadera, commander of the CCSO Criminal Investigations Division and coordinator of the match. "We are especially grateful to our sponsors, Beretta USA, Warrior Tactical Group (WTG), Smith and Wesson, 5.11 Tactical and Militec 1 oil who made the day more special," Aportadera said.
The CCSO proudly supports many non-profit organizations. For more information about other community outreach events in which the CCSO participates, please visit
http://www.ccso.us
.
Source: CCSO