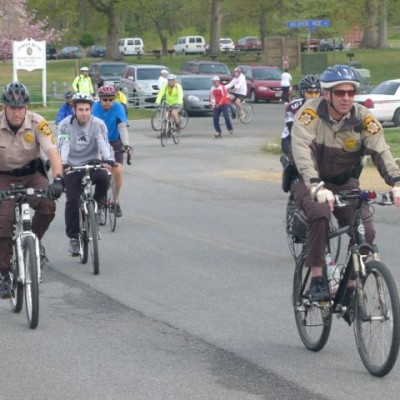 A 26 mile bike ride, organized by the sheriff's office, raised $2,800 for local charities. (Submitted photo)
LA PLATA, Md. (May 4, 2012)—The Charles County Sheriff's Office recently sponsored their Third Annual Bike Ride to benefit the United Way of Charles County and the Spring Dell Center. Despite cloudy skies and the threat of rain, nearly 100 community members joined the sheriff's office to ride the 26-mile Hiker-Biker Indian Head Rail Trail. The event raised $2,800 for the two organizations.
"The Sheriff's Office sponsors many events for local charities throughout the year," said Lt. Steve Salvas, commander of the Community Services Section and coordinator of the bike ride. "This event has always been popular. Bicycling enthusiasts, casual riders, entire families and even some rollerbladers turned out to take part. People love it! The trail itself is easy to ride, it's scenic and it's all for a good cause," Salvas said.
After the ride, bikers were treated to a free lunch donated by the Town of Indian Head. "Every time we host an event in the Town of Indian Head, they jump on board and offer their assistance to make sure everything goes well," said Lt. Salvas.
Lending a hand in other ways were the Charles County Department of Parks and Recreation who helped plan the ride; the Department of Emergency Services who were on hand to provide medical care if needed; the Bike Doctor who assisted with bike inspections and repairs; and board members and clients from the Spring Dell Center and United Way who welcomed riders and manned water stations along the trail.
"One thing is for sure," said Sheriff Rex Coffey. "When it comes to helping local charities, we can always rely on our community. Whether they participate in the event or volunteer to work it, the folks here in Charles County are always willing to help." For more information about CCSO community outreach programs, visit www.ccso.us. Check out more photos of the event by visiting our facebook page at www.facebook.com/ccsomd.