PRINCE FREDERICK, Md. (March 26, 2012)—The Calvert County Sheriff's Office today released the following incident and arrest reports.
WEEKLY SUMMARY: During the week of March 19-25, deputies responded to 1,722 calls for service throughout the community.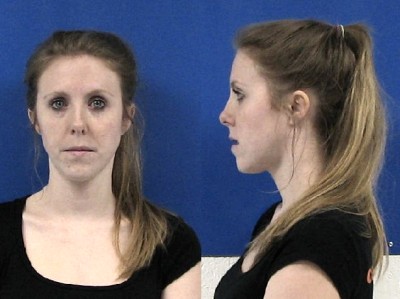 DRUG ARREST: On March 22 at 1:11 a.m. DFC J. Norton responded to the area of eastbound Md. Rt. 260 and Old Solomons Island Road in Owings for the report of a vehicle driving erratically. Norton observed the subject vehicle and conducted a traffic stop on St. Andrews Drive at Waterford Way in Chesapeake Beach. He found the driver to be in possession of suspected drugs. Jessica Ranea Watson, 25 of Chesapeake Beach, pictured above, was arrested and charged with possession of heroin and possession with intent to use drug paraphernalia, a rolled one dollar bill used to inhale heroin.
BURGLARY: Unknown suspect(s) stole $1260 worth of tools from an unlocked detached garage of a home in the 3800 block of Hallowing Point Road in Prince Frederick sometime between March 17 and 23. Cpl. R. Selkirk is investigating the theft of a car battery, a deer tripod, an 18 volt Craftsman cordless drill, a two ton chain fall and yellow electrical wire. Anyone with information is asked to contact Cpl. Selkirk at 410-535-2800.
THEFT FROM VEHICLE: A victim advised Dep. C. Fox that on March 23 between 6:00 p.m. and 7:30 p.m. someone stole his black ASUS Pad transformer valued at $450. The ASUS pad was removed from his unlocked vehicle that was parked at a home on Willett Lane in Huntingtown.
THEFT: An employee of the Dunkirk 7-11 convenience store located on W. Chesapeake Beach Road was charged with theft after she was observed on videotape removing money from the cash register and then buying lottery tickets with it. Heather Marie Robertson, 26 of Chesapeake Beach, was charged on a criminal citation with theft less than $100 by DFC P. Aurich on March 25.