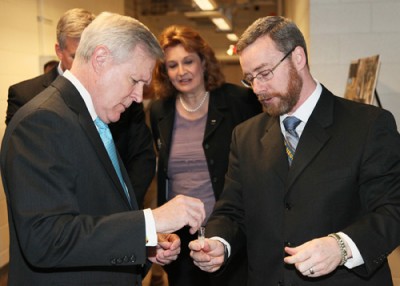 Dr. John Wilkinson, team lead for the research and development effort to counter homemade explosives, shows Secretary of the Navy Ray Mabus how to use the Bulk Homemade Explosives (HME) Detection Kit. (U.S. Navy Photo by Matt Poynor)
INDIAN HEAD, Md.—Secretary of the Navy Ray Mabus made his first visit to Naval Surface Warfare Center, Indian Head Division (NSWC IHD) on March 12 to learn more about the division's capabilities.
Accompanied by Maryland Congressman Steny Hoyer, Democratic Whip in the House of Representatives, Mabus met with NSWC IHD Commanding Officer Capt. Andy Buduo and Technical Director Dennis McLaughlin as well as other civilian personnel to learn how Indian Head Division supports the Navy.
"It's truly and honor to show Secretary Mabus the scope of our work at Indian Head Division," said Buduo. "He is a forward looking leader with a deep understanding of current and future Navy needs. We appreciate the fact he took time out of his busy schedule to gain an understanding of Indian Head Division's role in our nation's defense."
During his visit, Secretary Mabus toured NSWC IHD's new Advanced Energetics Research Laboratory and met with several scientists. The new laboratory consolidates many Research, Development, Test, and Evaluation Department's (RDT&E) functions and provides a more efficient operating environment for staff members who develop and test energetic materials. The new building also allows research scientists the ability to more safely handle explosive material, conduct analytical research and pursue development activities.
Mabus said his visit to NSWC IHD was eye opening and reaffirming. "There are just incredible capabilities at this facility," he said. "This is what gives and helps our military keep its technical edge, which is very important."
During his visit to the new laboratory, Mabus received briefings on several research and development activities at NSWC IHD, including the development of the Bulk Homemade Explosives (HME) Detection Kit. The HME Detection Kit gives U.S. forces in Afghanistan a method to identify materials used in homemade explosive mixtures.
Hoyer, who invited Mabus to see first-hand the capabilities at NSWC IHD believes the division's capabilities have long-range impacts for the nation's security.
"I want to thank Secretary Mabus for accepting my invitation to visit Naval Support Facility Indian Head to highlight the important work being done here," stated Congressman Hoyer.
"Today we saw firsthand the significant contributions this facility is making to protect our national security and maintain our nation's status as the premier military innovator in the world. The Fifth District is proud to be home to so many great military installations, and here at Indian Head, we have the nation's premier expertise in energetics technologies. Moving forward, I will continue working with the Administration, the Department of Defense, and my colleagues in Congress to ensure we can preserve, protect and enhance the quality work being done at Naval Support Facility Indian Head."
During their visit to Naval Support Facility Indian Head, Mabus also met with Marines from the Chemical Biological Incident Response Force unit.
Source: Naval Sea Systems Command (NAVSEA)