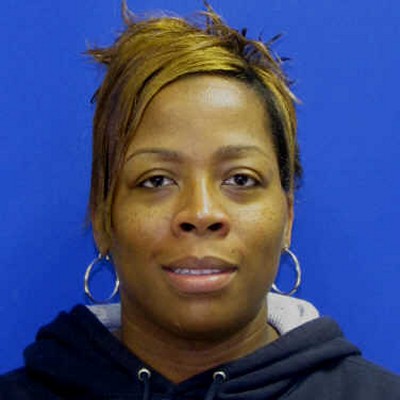 Sharon Ruby Gray, 37, of Brandywine, has been charged with filing a false statement to police. (Arrest photo)
LA PLATA, Md. (March 8, 2012)—Charles County Sheriff's detectives have charged Sharon Ruby Gray, 37, of Brandywine, in connection with filing a false statement to police in which she claimed she had been the victim of a kidnapping and abduction. The facts of the case, according to the Sheriff's Office, are as follows:
On Jan. 22, officers responded to the 3500 block of Malcolm Road in Brandywine after a citizen reported seeing a vehicle on the shoulder with the engine running but no one around. Officers tracked the car to an address in Brandywine and made contact with the homeowners. It was learned the driver of the car, Sharon Gray, had left earlier in the evening and had not been seen or heard from since. Foul play was initially suspected due to the manner in which the car was found and other evidence recovered from the scene. In addition, family members expressed concern about Ms. Gray's safety and well-being.
On Jan. 23, at about 9 p.m., Ms. Gray's husband called police and reported she had returned home. Detectives, who had been searching for her, spoke with Ms. Gray who reported the following:
She was driving on Malcolm Road the night before when the driver of a van began tailgating her. She said she pulled over to the shoulder of the roadway to let the van pass, but the driver allegedly cut her off and blocked her in. She then claimed the driver and another person jumped out of the van, grabbed her, put a bag over her head and forced her inside the vehicle where they allegedly tied her wrists together. Then, the suspects allegedly drove her around and reportedly held her against her will overnight.
A subsequent week-long investigation by CCSO detectives revealed Ms. Gray had not been kidnapped at all. Rather, she made up the incident in order to delay a Jan. 24 hearing in which she was to appear before a Prince George's County civil court to address allegations that she falsified the last will and testament of an elderly man to whom she provided home health care to and who had passed away. According to the will, Ms. Gray was to receive a bulk of the man's estate.
On February 17, a District Court Commissioner issued a criminal summons charging Ms. Gray with filing a false statement.
A total of 19 police officers were involved in the investigation and nearly 70 hours were dedicated to the case. In all, approximately $3,000 was spent while detectives pursued information.
Falsifying a statement to police is a misdemeanor and on conviction is subject to imprisonment not exceeding six months and or a fine not exceeding $500 or both.
Source: Charles County Sheriff's Office