By VARUN SAXENA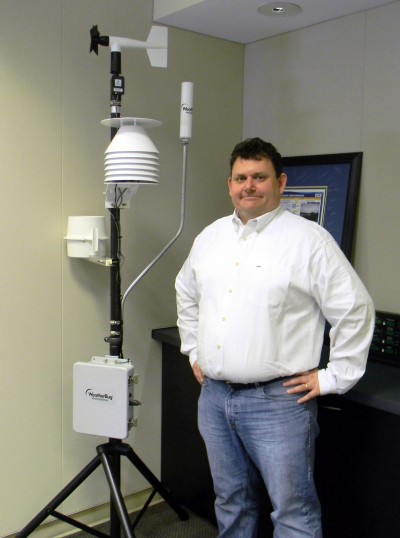 Director of Business Development Dave Oberholzer stands in front of Earth Network's WeatherBug weather system at the company's Germantown headquarters. (Photo: Varun Saxena)
WASHINGTON (March 3, 2012)—Dave Oberholzer's wife and kids weren't happy when Baltimore Gas and Electric turned off the air conditioner for their Brookeville home on July 22, 2011—a day when Washington's heat index hit 119 degrees.
But Oberholzer had no control over his thermostat because of his voluntary agreement with BGE. The company gave him a discount on his monthly bill in return for the right to turn off his AC during times of high demand.
Fortunately, his company was already working on a better solution.
Oberholzer, the director of business development for Germantown-based Earth Networks, wants to replace utilities' crude "demand-response" programs with something more sophisticated—and profitable: Earth Network's e5 initiative.
"Our philosophy is that consumers are willing to participate in these (demand-response) programs only to the extent that they can maintain comfort," he said.
Earth Network's e5 initiative aims to remotely optimize homeowners' thermostats based on their prespecified preferences. Tests of the service showed energy use from participants' AC decreased by 17 percent.
After two years of development, the company is preparing to bring the initiative to the market. Its network of more than 8,000 WeatherBug weather stations gives Earth Networks an advantage over its competitors, Oberholzer said.
That's because the weather stations provide localized information in real time, which enable Earth Network's team of 30 meteorologists to fine-tune a thermostat and better anticipate demand-response events, such as an upcoming heat wave.
If a heat wave is impending, the thermostat will automatically start to pre-cool the house. When demand for AC peaks in the heat wave, the customer's AC should be off, and remain so until a prespecified temperature is hit. Homeowners can override the automated decision at any time.
The early response saves utilities money and reduces strain on the grid.
"When we have to buy and secure contracts during peak demand it costs a lot of money," said Southern Maryland Electric Cooperative spokesman Tom Dennison. "The grid is only capable of handling a certain amount of demand."
Air conditioners are responsible for "55 percent of the electrical load of a typical house," Oberholzer said.
To meet peak demand, energy generators utilize "peaking plants" which can be active for as few as 100 hours a year.
Utilities that join Earth Network's plan will compensate us "for shifting energy away from peak time when the demand is strained," said Oberholzer. The service will be free to consumers.
The service will also optimize customers' heaters and create a customized list of steps they can take to improve their home's energy efficiency.
To participate, households must have an Internet-enabled thermostat, which costs about $100, and a smart meter, which precisely measures electricity usage in real time. Utilities in Maryland and across the nation are installing smart meters in customers' homes.
The first commercial pilot program of the e5 initiative will be held this summer in Houston, Oberholzer said. The city experienced blackouts earlier this month due to unusually cold weather and took emergency measures to avert them last summer.
The service will be offered nationally in the fall, but only in cites with a need for demand-response programs.
Maryland utilities have their own demand-response programs. Pepco offers participating customers a rate credit of between $40 and $80 for the right to turn off their AC during peak usage. Customers who receive the $80 rate credit may have their AC turned off indefinitely until demand subsides, said Inia Burginger, who manages Pepco's demand response program.
For a $50 rate credit, SMECO adjusts the thermostat of participating customers during peak demand. The program is not active on weekends or holidays.
About 100,000 Maryland customers participate in Pepco's demand-response program. It will be offered in Washington soon, said Burginger.
SMECO has 32,000 customers in its demand-response program. Slightly more than 2 percent of the customers drop out of the program within a year, said Dennison.
The e5 initiative is compatible with carbon trading and time-of-use pricing plans because they provide customers with an additional incentive to participate in the program, said University of Maryland electrical engineering professor Jungho Kim.
Time-of-use pricing, in which customers are charged more for electricity during high demand, "is definitely something we want to pursue at an appropriate time," said Dennison. Any such plan needs approval from the Maryland Public Service Commission.
Oberholzer said regulators are concerned that a time-of-use plan will confuse customers, but Dennison said the pricing plan could be implemented voluntarily.
Pepco tested a time-of-use pricing plan on about 900 customers in Washington. An industry professional association gave the pilot program the best demand-response program award in 2010, but it was later discontinued. Burginger would not say why it was discontinued, or whether the company plans to bring back or expand the program.
Kim received $1.4 million from Earth Networks and the state government to perform research to advance the initiative. The grant enabled Kim to hire staff, including University of Maryland doctoral student Michael Siemann, who is writing his thesis on "a new technique of using weather data from a live weather network" such as Earth Network's array of WeatherBug weather stations.
Siemann is helping to create the algorithms that the thermostat uses to optimize the temperature. The challenge is to find the optimal temperature "with basically as little amount of data as possible," Siemann said, because the algorithm must "scale to as many houses as possible."
Earth Network hopes to turn the initiative into a business providing $100 million in annual revenue and hire 65 support staff.
Oberholzer would not disclose the value of the contract, or where the e5 program will expand.