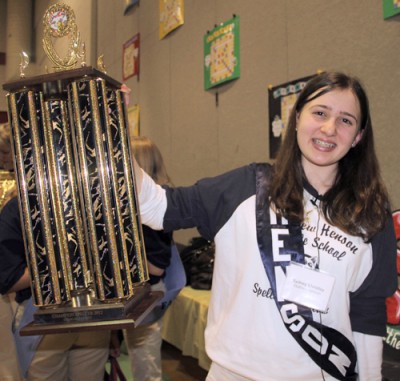 Sydney Christley, the winner of this year's Charles County Spelling Bee.
LA PLATA, Md. (February 21, 2012)—Sydney Christley, a seventh-grade student at Matthew Henson Middle School, won the Charles County Public Schools (CCPS) 34th annual Spelling Bee held Feb. 17 at Mattawoman Middle School by spelling the word "bureaucracy" correctly. As the county winner, Christley advances to the National Scripps Spelling Bee scheduled for May 27-June 1 in Washington D.C.
Mervin Posey III, an eighth grader at General Smallwood Middle School, earned second place in the competition, followed by Elijah Vaughan, an eighth grader at Theodore G. Davis Middle School, in third place. Additionally, teams from each competing school are awarded points based on student performances during each round.
Davis's team earned first place for their team performance. Along with Elijah Vaughan, team members are sixth graders Brandon Powell and Sara Wathen, and seventh graders A'mari Bing-Way and Yasmane Osby. Team coaches are Dawn Murphy and Tanya Ansell. As first-place winners, the Davis team was awarded a special plaque to display in the school.
Students from all Charles County Public middle schools and county private schools are invited annually to participate in the event. The spelling bee is sponsored by CCPS, the College of Southern Maryland, the Maryland Independent, and Southern Maryland Electric Cooperative, Inc. (SMECO).
Source: Charles County Public Schools