Dontae Carroll to Lead Long & Foster Offices in Prince George's County and So. Maryland
Dontae Carroll has been named regional manager of Long & Fosters Prince George's County and Southern Maryland offices. Carroll is the manager of Long & Foster's Lexington Park sales office, and will continue in this role.
Carroll is a licensed Realtor who has the designation of Certified Residential Broker as conferred by the National Association of Realtors. He has also served on the boards of directors for the TREND MLS System and the Southern Maryland Association of Realtors.
Carroll is married with two children, and he resides in Southern Maryland.
Calvert Systems Engineering Now Located in Prince Frederick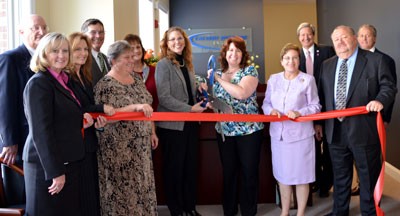 Calvert County Administrator Terry Shannon (front left) and county commissioners welcome CSE President Donna Croll (center left) and Vice President Tamara Myers (center right) and staff to their Prince Frederick location.
Calvert County commissioners and County Administrator Terry Shannon recently welcomed Calvert Systems Engineering (CSE) to their expanded location in Prince Frederick.
Founded in 2003 in Calvert County, CSE is a women-owned software and engineering systems provider on numerous defense contracts. What began as a two-person company today boasts 44 employees and revenue over $5 million. In that time, CSE has also acheived 8(a) certification and opened other offices in Nebraska and Texas.
Local Contractor Earns CMMI Level 3 Credential
Imagine One Technology & Management, Ltd. is now rated at Maturity Level 3 for the CMMI for Development v1.3 model. Imagine One achieved this rating after completing its Standard Capability Maturity Model Integration (CMMI) Appraisal Method for Process Improvement (SCAMPI) Class A on December 9, 2011, conducted by SEI partner, Acme Process Group.
CMMI is an internationally recognized process improvement approach developed by Carnegie Mellon's Software Engineering Institute (SEI). The development model contains best practices that help organizations to improve the effectiveness, efficiency, and quality of product development.
In early 2011, Imagine One obtained a Level 2 rating, which focuses on management of specific projects. The Level 3 rating shows Imagine One's processes function proactively across projects and at the organizational level.
Imagine One provides program management, systems engineering, test & evaluation, CYBER engineering services, interactive training, information technology, and logistics services to Space and Naval Warfare Systems (SPAWAR), Naval Air Systems Command (NAVAIR), Naval Sea Systems Command (NAVSEA), Naval Surface Weapons Center (NSWC) Dahlgren, Naval Air Warfare Center Aircraft Division (NAWC AD), and the United States Coast Guard (USCG).
Good Agricultural Practices Workshop Feb. 22
The Maryland Department of Agriculture (MDA) and the University of Maryland (UMD) will conduct training for fruit and vegetable producers who want to learn more about implementing good agricultural practices. Farmers are invited to learn about the Good Agricultural Practices (GAP) program at a training session to be held Wednesday, Feb. 22, 9 a.m. to 4 p.m., at the Calvert County Fairgrounds, 140 Calvert Fair Drive, in Barstow.
Training session topics include:
-- Why a GAP program is for ALL fruit and vegetable producers;
-- How implementing a GAP program can assist producers;
-- The basics of GAP including water quality and wildlife issues, compost/manure use, worker hygiene and basic sanitation; and
-- MDA/UMD programs to assist producers in implementing a GAP program.
The training registration fee is $20 per person which includes lunch and training materials.The GAP training for fruit and vegetable producers is sponsored by the Calvert County Sustainable Agriculture Work Group, the Calvert County Agriculture Commission and the Southern Maryland Agricultural Development Commission.
To RSVP call 410.535.1600, ext. 2337. For a registration form, visit www.calvertag.com. In case of cancellation due to inclement weather, please call 410.535.4583 to hear a recording on the workshop status.