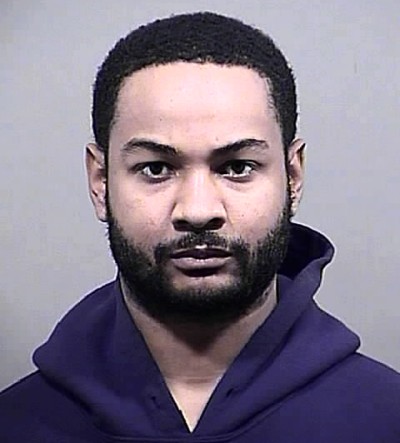 Rodney Peter Quarles, Jr., 25, has been charged with nine thefts that occurred between March and January in Waldorf. (Arrest photo)
LA PLATA, Md. (February 14, 2012)—The Charles County Sheriff's Office has arrested a Charlotte Hall man in connection with more than a half-dozen tire and wheel thefts and detectives suspect his involvement in other such thefts, Sheriff Rex Coffey announced today.
Rodney Peter Quarles, Jr., 25, has been charged with nine thefts that occurred between March and January in Waldorf. He is currently out on a bond set by the District Court Commissioner.
The arrests are the result of an investigation into suspicious activity on Jan. 31 at 2:40 a.m. Officer D. Harrison was patrolling Bensville Road in Waldorf when he observed two vehicles parked at Bensville Park, which is closed after dark. When he attempted to stop the vehicles both drivers accelerated away.
The vehicles – a Chevrolet Tahoe and a red passenger car – fled in different directions in the area of Bensville Road at Route 228. Officer Harrison lost sight of the passenger car but continued to pursue the Tahoe, which had turned onto Route 228 and headed toward Prince George's County. Other officers joined the pursuit and one of them deployed stop sticks. The Tahoe struck the stop sticks and went into a ditch. The driver tried to flee on foot but officers quickly apprehended him.
Officers identified Quarles as the driver and arrested him for fleeing and eluding police. During a subsequent search of the Tahoe, officers discovered four GMC 20-inch chrome rims with tires in the back of the SUV. They also found items to suggest the wheels had been stolen – a ski mask, an auto jack, lug nut tools and landscaping bricks – but the officers could not initially identify a theft victim. They charged Quarles with fleeing and eluding police, failing to obey a lawful order and resisting arrest and transported him to the Charles County Detention Center, where he was released on bond.
At 6:50 a.m., just a few hours following Quarles's arrest, officers responded to a residence in the 7900 block of Monarch Street in White Plains when a citizen reported the 20-inch chrome rims and tires had been stolen from her GMC Yukon. The vehicle had been left on landscaping logs. Shortly thereafter, the victim was able to identify the rims and tires from the back of Quarles's SUV as her own.
After obtaining an arrest warrant for the theft, officers arrested Quarles and charged him with felony theft, rogue and vagabond and fourth-degree burglary. He was released from the Detention Center on bond.
Detectives in the Criminal Investigations Division continued the investigation and determined Quarles had been involved in eight other tire and rim thefts that occurred in Waldorf between March 23 and Jan. 10. On Feb. 7, detectives obtained another arrest warrant, this time charging Quarles with seven counts of theft valued between $1,000 and $10,000; theft valued at less than $1,000; three counts of fourth-degree burglary; and eight counts each of possession of burglar's tools and rogue and vagabond. Officers arrested Quarles on Feb. 8 and transported him to the Detention Center, where he released on a $20,000 bond.
The CCSO suspects Quarles is responsible for additional wheel thefts and believes he did not act alone. As detectives continue their investigation, citizens are urged to remain vigilant and to follow these important tips:
-- See Something, Say Something: If you see someone suspicious or a vehicle with which you are unfamiliar, call police immediately.
-- Consider installing a car alarm and locking lug nuts.
-- Mark your rims with a personal code or ID to help officers identify recovered property.
-- The thieves operate under the cover of darkness. Listen for barking dogs or other unusual noises. If you believe a theft is in progress, do not confront the thieves yourself, turn on lights, make noise, etc. Remain quiet and undetected and call 911 right away.
In the months since the CCSO began investigating these thefts, the CCSO has increased patrols in neighborhoods and distributed flyers to at-risk vehicle owners.
Anyone with information about the wheel thefts is asked to call the CCSO at 301-932-7777 or Charles County Crime Solvers at 1-866-411-TIPS. Tips can also be submitted by texting "Charles" and the tip to CRIMES or by visiting www.ccso.us to submit a tip online. Crime Solvers is offering a reward of up to $1,000 for information that leads to an arrest or indictment.