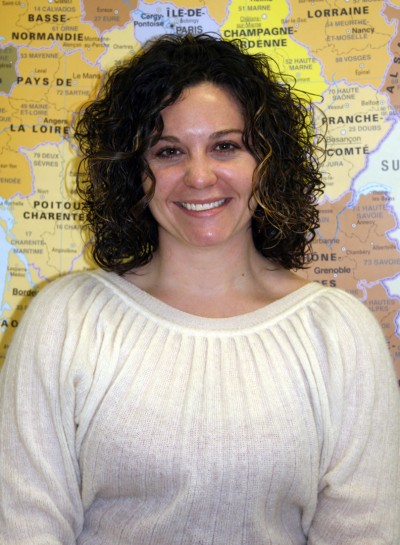 Courtney Brunone, a French teacher at Westlake High School in Waldorf.
LA PLATA, Md. (February 10, 2012)—Courtney Brunone, a French teacher at Westlake High School, was recently named Charles County's 2012 Outstanding Educator Using Technology by the Maryland Society for Educational Technology (MSET).
The award recognizes outstanding prekindergarten through grade 12 teachers who make exemplary contributions to instructional computing practices by infusing technology into classroom lessons. Brunone was nominated for the award by Anthony Cianfichi, media instructional assistant, and Matthew Howard, social studies teacher, on behalf of Westlake staff. She was nominated for modeling innovative uses of technology in the classroom to help her students succeed and for serving as a resource of information for her fellow peers.
In a letter submitted on behalf of Brunone's nomination, her colleagues said her commitment to using technology in the classroom is a model for other teachers. "From her use of digital recording devices to the SMART Board and notebook, Ms. Brunone is on the cutting edge of the digital interactive classroom. She is an example of what teachers using technology in the classroom should strive to be. Her lessons allow students of all levels to be actively engaged and involved with a variety of strategies to motivate students."
Brunone uses the SMART Board and Notebook technology to enrich student success by creating lessons that engage both visual and kinetic learners. Through the use of this technology in her lessons, students in Brunone's classes have improved their comprehension of French. She also uses technology to explore contemporary and popular culture events that relate to the students and their academic needs in studying French.
Brunone has also incorporated the use of digital recording devices into her lessons to help students better pronounce and verbalize the French language accurately. She also uses real life images to help improve student vocabulary, grammar and understanding. In addition to her expansive use of technology in the classroom, Brunone serves as a main source of information and assistance for staff on the best uses of the SMART Board and Notebook technology.
She said she is honored to receive an award that highlights staff that use resources to provide students with fun ways to learn. "I am thrilled to have this award, especially since the world languages are often in the background. This honor gives me the opportunity to show that our department is creative with technology and works hard to give our students an education relevant to today's world. C'est un vrai honneur (It is a real honor)!" Brunone said.
Brunone has been teaching French at Westlake for the past three years, and has held several basic and advanced SMART Board training sessions. She has also presented her lessons using technology to foreign language teachers at other schools, and collects and analyzes data through the classroom performance system (CPS) response pads, which provide instant student assessment.
Brunone is eligible to receive the Maryland Outstanding Technology Using Educator award winner, which is selected by the MSET. The state winner will be announced later this year.
Visit
https://www.msetonline.org/
for more information on MSET.
Source: Charles County Public Schools