By VARUN SAXENA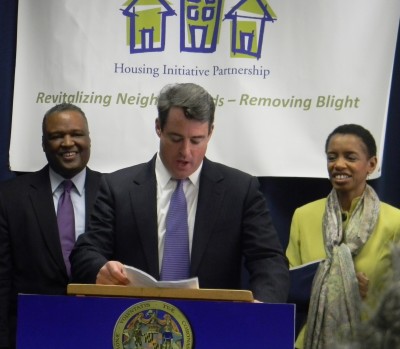 Attorney General Doug Gansler explains the foreclosure settlement at a news conference Thursday in Hyattsville. He is accompanied by Prince George's County Executive Rushern Baker and Rep. Donna Edwards, D-Fort Washington. (Photo: Varun Saxena)
WASHINGTON (February 9, 2012)—Struggling Maryland homeowners will receive almost $1 billion in financial compensation from five big banks as part of a national foreclosure settlement, Maryland Attorney General Doug Gansler said Thursday.
"The heartless soul-less conduct of the banks led directly to the foreclosure crisis," Gansler said in a news conference announcing that Maryland joined the settlement.
Gov. Martin O'Malley said in a statement that the deal, "not only provides significant relief to Maryland homeowners, but puts an end to practices that contributed to the foreclosure crisis across the country," in a statement.
Maryland received the sixth-most compensation, Gansler said, from the five largest mortgage servicers who control 60 percent of the market: Wells Fargo, Bank of America, Citi, JP Morgan Chase & Co. and Ally Bank/GMAC. Homeowners who purchased a mortgage from a different bank are not eligible for financial compensation.
The settlement contains four major provisions:
-- $808 million in principal reduction and loan modification for homeowners who are behind on their payments.
-- $64 million toward refinancing loans of homeowners who are not behind on their payments, but who owe more on their mortgages than their homes are worth. Refinancing will allow them to take advantage of the current low interest rates.
-- $62.5 million will go to the state in part to provide housing counselors and legal assistance to homeowners. Prince George's and Baltimore counties, the areas of the state hardest hit by the foreclosure crisis, will receive the most assistance, Gansler said. About $6 million will to go to the state's general fund.
-- $24 million to homeowners who lost their homes to foreclosure. Each homeowner will receive a check worth between $1,800 and $2,000.
The compensation will be distributed over the next three years.
"It is in the bank's economic interest to get money out as soon as possible," Gansler said, because they will face a fine if they fail to deliver the compensation in a timely manner.
As part of the deal, the states forfeit their right to pursue legal claims against the banks related to mortgage servicing and origination. Gansler stressed that states can still sue the banks for other forms of wrongdoing, such as the securitization of faulty mortgages, and that individuals can still bring their own suits against the banks.
About 40,000 homeowners will be affected by the settlement, Gansler said.
Homeowners who believe they may qualify for part of the settlement may call the Maryland Hope Hotline at 1-877-462-7555 or log into the website at www.mdhope.org.
"Half the people won't even call for the free money because they won't believe it," Gansler said.
"This is just where it becomes our job to let people know about it," said Rep. Donna Edwards, D-Fort Washington. "The state and county have all sorts of mechanisms to do so and I'm sure we'll do it."
Gansler also urged homeowners to seek help from housing counselors and to be wary of scams.
George Washington University economics professor Anthony Yezer, who has testified before Congress on the foreclosure crisis, was skeptical of the settlement.
"The big problem we face right now is the capitalization of the banking system and this doesn't help. We're going to look like Japan in the 1990's," he said.
The settlement marks the end of a 14-month negotiation between the banks and state attorneys general.
"Some of the heroes in this are the states that held out because the settlement became that much sweeter," Gansler said.
The deal came to fruition when California and New York agreed to join the settlement Wednesday evening. It includes every state except Oklahoma.
The agreement is intended to boost a weak housing market that Federal Reserve Chairman Ben Bernanke said is holding back the nation's economy.
Between 2010 and 2011 Maryland single-family home prices declined 3.6 percent according to data provided by CoreLogic.
Accompanied by attorneys general and Cabinet members, President Obama issued a statement in which he said, "All told, this isn't just good for those families—it's good for their neighborhoods, it's good for their communities, and it's good for our economy."