WaWa Celebrates 10 Years at La Plata and Mechanicsville Locations
Wawa, Inc. announced the 10th anniversary of their La Plata location at 5955 Crain Highway and their Mechanicsville location at 27605 Three Notch Road. To honor the anniversaries and to celebrate Wawa's dedication to its employees at both locations, Wawa hosted a family reunion-style in-store celebration on Feb. 2.
"From the day we opened our first convenience store in 1964, we've made it our goal to become an active member of the communities we serve and we're proud to call all of our customers, associates and partner community organizations members of our family," said Howard Stoeckel, Wawa's CEO.
Sport Clips Haircuts Opens Franchise in Lexington Park
LEXINGTON PARK, Md.—Sport Clips Haircuts opened a new store at Lexington Village 46400 Lexington Village Way in Lexington Park. This is the 3rd location in Southern Maryland, adding to the more than 840 locations across the country.
"What's better than being in a relaxing environment, where sports is on TV everywhere you look, with well-trained stylists and no need for an appointment when it's time for a haircut?" said Jeff Burroughs, Team Leader for the new Sport Clips. "Sport Clips has really caught on here in Southern Maryland, and having this additional location will make it even more convenient for guys to take care of their haircut needs."
Sport Clips in Lexington Park is open Monday through Friday from 9 a.m. to 8 p.m., Saturday from 9 a.m. to 6 p.m., and Sunday from 10 a.m. to 5 p.m. They offer haircut discounts to military, including members of the Veterans of Foreign Wars (VFW).
St. Charles Unveils "The Nines at Gleneagles"
ST. CHARLES, Md.—The St. Charles Companies has completed The Nines at Gleneagles, paving the way for immediate move-ins to the 120 new market rate rental apartments. Leasing began several months ago for the 1, 2, 2-bedroom with den and 3-bedroom walk-up units located in the heart of the 9,100 acre master-planned community just eleven miles south of the Washington beltway.
"The Nines at Gleneagles offers one of the best values in suburban Washington, DC. Rents average less than $1,700 per month in this amenity-rich community that offers access to swimming pools, tennis courts, walking trails, playgrounds, lakes and abundant in-community shopping and restaurants," said St. Charles Companies CEO, Alan Shearer.
The apartment community is the second of three that are planned for the St. Charles' neighborhood. The Company plans to begin construction of the third apartment community, which includes an additional 213 units, in early 2013.
Harkins Builders was the General Contractor for the project with construction financing provided by Wells Fargo. Property management services will be provided by Kettler.
Sneade's Ace Home Center Donates $2,000 to Calvert Hospice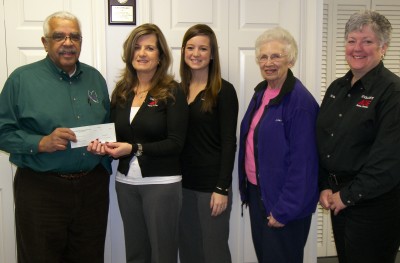 Pictured: Dr. Raymon Noble, Lynne Sneade, Dana Sneade Banyasz, Jeanne Coonan, and Tricia Willis.
LUSBY, Md.—Lynne Sneade, Tricia Willis, and Dana Sneade Banyasz of Sneade's Ace Home Center presented Dr. Raymon Noble, Calvert Hospice Interim Director and Medical Director with a $2,000 check for the Festival of Trees on Friday, December 30.
"We are still putting the numbers together," said Jeanne Coonan, of the Festival of Trees Steering Committee. "…but I think we did really well this year judging by the foot traffic. Checks are still trickling in - we're so grateful to have the support of community businesses like Sneade's."
Both Lynne Sneade, co-owner of Sneade's Ace Home Center and Tricia Willis, retail marketing programs manager have been on the Festival of Trees committee in the past.
"We've been a part of the Festival for a number of years," said Sneade. "And you know how it is, the whole family gets involved. I remember when it was at Patuxent High School. There have been a lot of changes, but the cause remains the same and Calvert Hospice is a great cause," said Sneade.
Willis' father went through hospice care. "Being involved with the Festival of Trees is a great way to give back," said Willis.