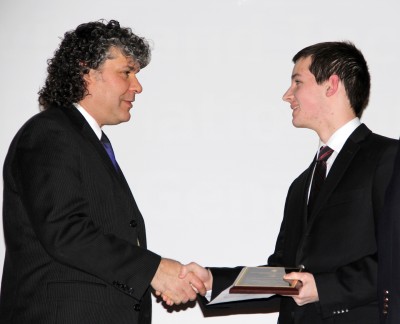 Jeff Goldstein, director of the National Center for Earth and Space Science Education, left, congratulates Lackey junior Paul Warren, right. Warren's experiment was selected to go aboard the SPaceX-Dragon vehicle later this year. (Submitted photo)
LA PLATA, Md. (February 7, 2012)—Science experiments at Henry E. Lackey High School are out-of-this-world. For the second consecutive year, an experiment created at Lackey is headed for outer space through the national science, technology, engineering and mathematics (STEM) program called the Student Spaceflight Experiments Program (SSEP). Experiments are entered nationwide. Lackey junior Paul Warren, who was a member of Lackey's space bound experiment team in 2011, created this year's experiment, which will fly on the first commercial spacecraft, the SPaceX-Dragon.
Warren plans to conduct identical experiments - one on the shuttle and one at school. His experiment will compare the structural differences between Caenorhabditis elegans, a round worm, with radiation on earth and in space, and to isolate the effects of microgravity on radiation. The experiment, "Physiological effects of microgravity and increased levels of radiation on wild type and genetically engineered Caenorhabditis elegans," is one of 15 nationwide that will be conducted by astronauts aboard the International Space Station.
Jeff Goldstein, center director of the National Center for Earth and Space Science Education (NCESSE) and director of the SSEP, expressed the importance of science and how the commercial space flights are a new turning point in history. The experiments were originally due to take off on March 30 from Baikonur Cosmodrome, Kazakhstan on the Russian Soyuz 30, but the spaceship failed a critical flight test and has been postponed indefinitely. Therefore, the experiments will go aboard the SPaceX-Dragon vehicle, the first commercial spacecraft to dock with the International Space Station. The launch date has not been set.
Lackey science teachers Lara North and Romulo Gabriel are Warren's mentors for the project. Warren submitted his proposal on Nov. 22 and presented his first-place experiment at the awards ceremony held at Maurice J. McDonough High School on Jan. 30. Warren's experiment was among the 24 Charles County Public Schools team submissions. Teams from Dr. Thomas L. Higdon Elementary School and La Plata High School were also selected as finalists.
In October, teachers and students in grades 5-12 were asked to develop experiment proposals covering a diverse range of fields including the effects of microgravity on cement and on rotting fruit. A local panel of educators, scientists and engineers, reviewed all student proposals. Experiments from Higdon, La Plata and Lackey were selected for final review by NCESSE, which made the selection on which experiment would fly.
In a second part of the program, 53 students designed mission patches to compete for two flight spots on Dragon. The patch design competition was open to students in kindergarten through grade 12. Patches were displayed in the lobby of the Jesse L. Starkey Administration Building and selected by open public voting. Lauren O'Neil, a fifth-grade student at Walter J. Mitchell Elementary School, and Nathan Freeman, a senior at La Plata High School, created the winning elementary and secondary space patches. Freeman is a repeat patch design winner, and his first patch flew aboard the last flight of the U.S. Space Shuttle program, the flight of Atlantis (STS-135).
SSEP is undertaken by the National Center for Earth and Space Science Education, a project of the 501(c) (3) Tides Center, in partnership with NanoRacks, LLC. This on-orbit educational research opportunity is enabled through NanoRacks LLC, which is working in partnership with NASA under a Space Act Agreement as part of the utilization of the International Space Station as a National Laboratory.
For more information on the SSEP, visit their Web site at
http://ssep.ncesse.org
.
Source: Charles County Public Schools